When You Need a Professional Photographer
Dewitz Photography collaborates with various corporations, businesses, ad agencies, and publishers on a range of services. Hiring the best photographer separates you from the competition as stellar images showcase you in the best light while upholding the human side of your company. Clients essentially want a variety of photography including environmental portraiture, work floor, safety implementation, skilled workforce, employee and customer relations, and detailed product photography; all for use in articles or corporate annual reports.
For pricing and availability, please contact me at travisdewitzphotography.com or 715-514-4505.
---
"Collaborating with Dewitz Photography on a shoot for one of our Wisconsin-based clients' websites was a delight. He knew what we wanted to achieve, made great suggestions, got imagery to us quickly and more than met our (and the client's) needs. We have already come back to him with more assignments." – Todd Rhoda, Clever Design, New York City
---
 Home Office in Eau Claire | Located in Central Wisconsin | Working in these Markets
Minneapolis | Duluth | Milwaukee | Chicago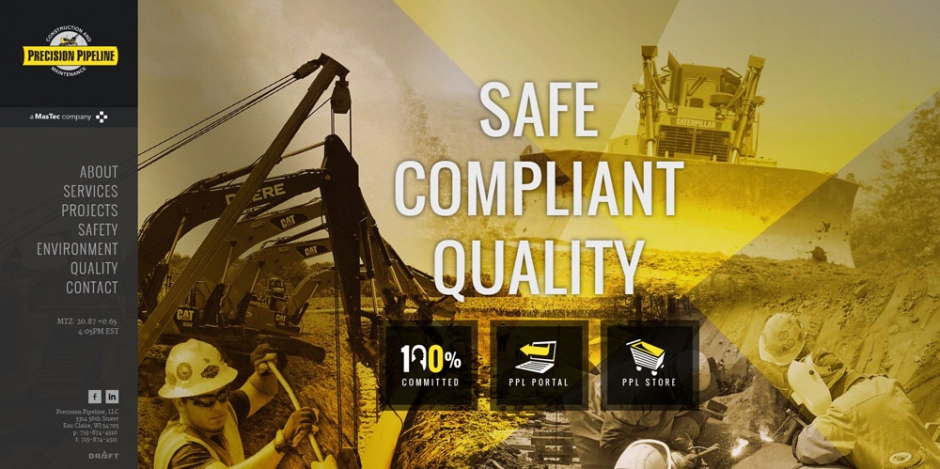 Specializing in Business and Industrial Photography
Striving to be the best in a narrow field is something I specialize in and I work diligently to meet any challenge that lies before me. I have a proven record of being trusted while working from every aspect with clients big and small. In an industrial environment, you can expect me to follow all safety protocol while working securely and efficiently among other workers on site. Being able to handle situations efficiently and effectively in the field like inclement weather, appropriate dress, or change of plans in these fast paced environments is an absolute must.
As a dynamic professional photographer I will showcase your company in a way that your clients see that you care, learn what you are about and understand what is important to you. Presenting your clients and future clients who you are, what you do, and how well your company can achieve the end goal visually is a key ingredient to a successful collaboration while creating your brand. Aerial photography available, click here to learn more.
Core Clients
Trade Magazines
Business Journals
Railroads
Oil and Gas Industries
Mining Industries
Healthcare Segment
Manufacturing
Agriculture
Logging
Annual Reports
Energy
Municipalities
Environmental Portraiture
Environmental Portraiture is two main and important subjects combined and blended seamlessly into one photo. The first and most important subject is the person. This isn't just a photo of a person working or standing there for the picture. It is an intimate portrait into a person's soul. Their story unfolds in front of you with who they are in life through one frame, one slice of time. Environmental portraiture encompasses the environment that the person is in, their surroundings. In this portion of the photo you are able to connect the dots and gain an understanding of what this person does. It is through this picture that tells the story you want the viewer to learn from. The portrait and the environment give you a visual artistry that you can see about who this person is, what they are about, where they are from, and what they do. It shows your clients that you are vital to the marketplace; it shows them that your company and its people are important.
Photography Concepts
Safety
Friendliness
Clean Workplace
Efficiency
Technology
Modernized
Uniqueness
Branding
Primary Commercial Website | Dewitz Photography, LLC is fully insured.