I had the privilege to be Jonathan and Skye's wedding photographer this August. Their wedding was held just outside the Badlands in Mandaree, North Dakota. They had a traditional Mandan wedding ceremony that included binding their wrists together, being draped in a Buffalo Hide, and smoking from a wooden pipe as a blessing was spoken. Their wedding was moved into the Water Chief Hall last minute due to the weather but they were able to set everything up just in time. After the traditional native ceremony, we drove to the Badlands for a few portraits of the bride and groom. We went back to the reception hall for dinner and to watch a comedy act. They also had a musician and DJ for entertainment that filled the rest of the evening. I hope you love the photos that show you their very special day.
Comedian | TITO YBARRA – Bemidji, MN
Musician | JERMAINE WHITE ELK –
Primary Photographer|DEWITZ PHOTOGRAPHY – Eau Claire, WI
Secondary Photographer|VIOLET PHOTOGRAPHY & DESIGN – Altoona, WI
---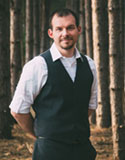 As an established and versatile photographer I work in many genres of photography. Environmental Portraiture allows me to connect my genuine curiosity of my subject into a visual timeless story through the creation of their  portrait. Working with the naivety and quiet beauty of people fascinates me as I engage in the essence of who they are and their true sense of identity. I photograph the emotion and personality in their everyday being through deliberate details and natural flair. My yearning is to naturally engage you doing what you love and the essence of who you really are.
---
Like and Share With Your Friends and Family!