I know many of you are not on Facebook and so you miss some of my photography that I only post there. I spend a lot of time per photo to process them for my gallery. There are a lot of fine details and quality checks that I go through to make sure the photo is ready to be sold and printed by high-end printing services. Facebook is a different story. Facebook degrades image quality so much for them to conserve file size space from the millions of photos that are posted to there. Because of this, my best quality photos look the same as my minimally processed photos. This always me to just browse my archives and pick a photo that connects to me at that time and do a quick edit to it and I can share it. I don't have as much involved into it which allows me to share many more photos with my friends, fans, and family then I was ever able to do before. At the most, I usually process a handful of images at a time.This last Friday night (January 4th) my creative juices just started flowing as I was going through my photo archives processing one photo after another. I was on a roll like never before so I kept going through galleries one by one picking out any photo that stood out to me at that time. As I got over an hour into it I decided this was my 365 project for the year with a twist. Many photographers do a 365 project which is one image a day for an entire year. I know that I personally could not complete that without missing a few days or forgetting about it for a week. So I figure every once in a while this year I will power through my many folders of images that have just been sitting and quickly process the ones that catch my eye. I may end up at 365 images for the year, maybe more maybe less. No rules, no constraints. Just the freedom to go with the flow. So back to this Friday night, I processed out 95 images in 2 1/2 hours. So I spent 1.6 minutes per image which includes browsing for it. That is a record for my normally slow and methodically habits. I'm not going to bore you with 95 images but I will share with you a large selection of my favorites. I hope you enjoy the variety and my many railroad images.
---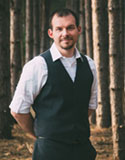 Travis Dewitz is a remarkable photographer in the Chippewa Valley. He is well known for photographing local sceneries, landmarks, venues, buildings and people in various and ingenious ways. Though you not know him personally, his work provides a unique foundation of our local community and his photographs are unmistakable. Dewitz's pictures are an impressive feat and preserve a moment; long after our travels are over, and our memories faded, photos are what remind us of the adventures we had and the connections to the people we met. Learn more about him here.
---
Like and Share With Your Friends and Family.
YOUR LIFE. YOUR STORY. YOUR PORTRAIT. CLEARLY UNIQUE.
---
---
Related Posts