I will start this by saying that I am not anti-progress, anti-industry, anti-logging, or anti-business. I am not a big conservationist either but I still want to preserve the environment. I'm not out to save the world and it's my personal opinion that most of what is behind Global Warming is over-hyped. Nothing in this post has been confirmed, but from what I have learned from the past, I am pretty sure the red Xs confirm that these are death trees. Huge, unique, very old, beautiful trees will soon be lying on their sides on the once manicured grass of the Hillcrest Golf & Country Club. The sign says that the club has been here for 87 years. I am sure many of the trees are close to that same age if not older. The Hillcrest Golf & Country Club went out of business last year and the golf course is slated for a housing subdivision. The land has been surveyed and the markers are up. Most of the trees have red Xs spray painted on their trunks which seals their fate. I am not against housing developments, can't say I am a big supporter either. The towns and cities we live in were once developments just like this one. This is how cities grow and expand to meet the increasing population. So they may not be wanted but they are needed in some form or another. If this was a stand of pine trees I wouldn't care as much. I understand the cost of moving in one direction or another. Why am I getting  involved with this then? Well, these trees are very old and very unique. They are spread out and I feel that many could be saved if the development  of this land worked around the trees instead of working through them. I understand the land and tax costs may command that as many houses as possible be placed on this land. If that is the case, maybe there are tax breaks, programs, or hidden sacks of money that could make this work for everyone including the trees. I really don't know. Maybe the red Xs mean these are the trees to save? Pass it on, lets get answers before it is too late, if you care.
---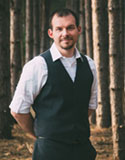 My name is Travis Dewitz and I am from Eau Claire, Wisconsin. I love photography. It lightens my heart, fills my soul, and allows me to capture life the way that I see it. I specialize in these three areas of photography; Corporate, Portraits, and Youth Modeling. These three areas that I offer fit my strengths and keen precision I have for these art forms. I believe the most important quality of a photograph, as in all art, is to evoke an emotional response. The bold pursuit of chasing the best one yet pushes me to continually evolve my photography vision; with precision, compassion and visual drama. ~ read more about me.
---
Like and Share with your friends and family!
YOUR LIFE. YOUR STORY. YOUR PORTRAIT. CLEARLY UNIQUE.
---
---
Related Posts