I have recently teamed up with Eau Claire, Wisconsin's destination marketing organization, Visit Eau Claire. I do a lot of personal photography series and documentation around my local community and the partnership with Visit Eau Claire gives me another avenue to feature my photography and it also helps others see what Eau Claire and the Chippewa Valley has to offer. It is a win-win partnership that I am glad to have. Below are a few of the photo series that are cross promoted with VisitEauClaire.com.
---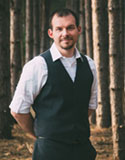 My name is Travis Dewitz and I am from Eau Claire, Wisconsin. I love photography. It lightens my heart, fills my soul, and allows me to capture life the way that I see it. I specialize in these three areas of photography; Corporate, Portraits, and Youth Modeling. These three areas that I offer fit my strengths and keen precision I have for these art forms. I believe the most important quality of a photograph, as in all art, is to evoke an emotional response. The bold pursuit of chasing the best one yet pushes me to continually evolve my photography vision; with precision, compassion and visual drama. ~ read more about me.
---
YOUR LIFE. YOUR STORY. YOUR PORTRAIT. CLEARLY UNIQUE.
---
---
Related Posts