I just ran across these WEAU Channel 13 News screen captures  from last year which I had forgotten about. These photos are of the Germann Road Wildfire in Northern Wisconsin near Gordon. This was the largest forest fire in Wisconsin in 33 years. The Wisconsin DNR reported that the fire consumed 8,131 acres of forest land across Douglas and Bayfield Counties.
All the photos from this fire can be seen at www.dewitzphotography.com/personal-photography-projects/the-aftermath-of-the-devastating-forest-fire-in-northern-wisconsin

---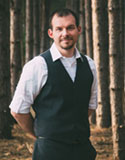 Travis Dewitz is a remarkable photographer in the Chippewa Valley. He is well known for photographing local sceneries, landmarks, venues, buildings and people in various and ingenious ways. Though you not know him personally, his work provides a unique foundation of our local community and his photographs are unmistakable. Dewitz's pictures are an impressive feat and preserve a moment; long after our travels are over, and our memories faded, photos are what remind us of the adventures we had and the connections to the people we met. Learn more about him here.
---
Like and Share With Your Friends and Family.