These horse like masses of metal just sit slowly rocking across the western landscape of the United States pumping deep into the earth trying to recover black liquid from ancient dinosaurs. These oil well pumps are known as pumpjacks. Pumpjacks are used to mechanically lift oil out of the well if there is not enough natural  pressure for the oil to flow all the way to the surface on its own. The arrangement is commonly used for onshore wells producing little oil. Depending on the size of the pump, it generally produces 1 to 10 gallons of oil for each stroke. Often this is an emulsion of crude oil and water. Pump size is also determined by the depth and weight of the oil to remove, with deeper extraction requiring more power to move the heavier lengths of sucker rods.
I wanted to show the motion and energy of these large and slow Bakken oil field pumpjacks. I handheld my camera and used  a longer shutter speed while  moving the camera and lens with the motion of the pumpjack to create the motion seen below. The results were greater than I expected with the images of the oil wells looking like ancient dinosaurs exploding back to life.
Learn more about the Bakken Oil Boom and See Many More Images here.
---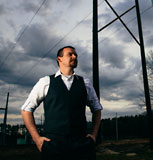 Through the creative lens of Travis Dewitz; he demonstrates time and time again how much splendor can be extracted from the interplay of the industrial world around us. In the most unusual and unexpected places Dewitz showcases images that embody the forgotten beauty of railways, factory floors, the rolling smoke of steel mills, and the cities that are built around them. He brings a certain magic as he invokes the very souls of these once-glorious industrial areas; his captures overflow with inspirational energy. Click here to view his personal series.
---
Like and Share With Your Friends and Family.
YOUR LIFE. YOUR STORY. YOUR PORTRAIT. CLEARLY UNIQUE.
---
---
Related Posts