When I travel to areas of great recession, decay, and abandonment around the Unites States I truly feel bad  that I went mainly capture the decay. I always photograph the good and positive as well when I am in these cities but I'm drawn to the bad. I think for me it is about shooting something that is much different from what I can see easily near me in Wisconsin. I try to capture the usually strong feel I get when I'm there. I want to show how I feel through my photos. As an outsider coming into cities like Detroit and Braddock, I felt an overwhelming feeling of darkness and hopelessness. I had completely different feelings between Detroit and Braddock. Detroit I see a lot more hope, I saw a strong revolt against failing. They are definitely on their hands and knees slowly trying to push forward. Braddock is dead. The only heartbeat left in Braddock is the steel mill, a steel mill that doesn't employ a single Braddock resident. It isn't that the steel mill doesn't hire local workers, it is that the steel mill's workers move away from Braddock. The Edgar Thomson steel mill can be seen from almost anywhere you are in Braddock, the mill is Braddock. I did not see any hope for Braddock, 90% of the population is gone and I don't foresee any of them coming back. I think that Braddock has an incredible mayor that is working very hard to save his city and I hope he wins.
Detroit gave me a different feel. It is also full of abandoned lots, decaying homes, burnt out houses and entire industrial complexes that are standing empty. The scale and number of abandonments in Detroit is mind numbing but there is a lot of good mixed in between the bad. That mixture makes a big difference compared to having complete areas of devastation like the coal towns in Southwestern West Virginia. Another thing that helps is that Detroit also has an incredible mix of architectural styles that adds so much interest and beauty to the city. The beauty of some of the these building completely overcomes  the fire damage or decay. You don't even notice it until you really look closer, almost a double take at times for me. But seeing abandoned skyscrapers really can mentally break a person. It is these building that are built to survive that now stand empty which made me realize how hard Detroit really was hit. It appears downtown Detroit has made a strong comeback from the research I have done which I hope they continue. Enjoy my images below and visit the links below to see more.
---
More photos from my Detroit Photography Project.
---
---
More photos from my Braddock Photography Project.
---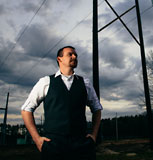 Through the creative lens of Travis Dewitz; he demonstrates time and time again how much splendor can be extracted from the interplay of the industrial world around us. In the most unusual and unexpected places Dewitz showcases images that embody the forgotten beauty of railways, factory floors, the rolling smoke of steel mills, and the cities that are built around them. He brings a certain magic as he invokes the very souls of these once-glorious industrial areas; his captures overflow with inspirational energy. Click here to view his personal series.
---
Like and Share With Your Friends and Family.