Bruner Blades located in Fall Creek, Wisconsin is a custom knife maker. A member of the Knifemakers' Guild, Fred has been making beautiful handcrafted knives since the 80's. Every part of his knives are handcrafted for a one of a kind look. Fred starts the knife making process by heating high-grade carbon steel in a blast furnace until it is red-hot. The knife blade blank then gets hammered and shaped by a mechanical forge hammer. The  knife blank gets reheated and hammered over and over until the rough shape is achieved. He then hand hammers the red-hot knife blank in to the desired rough blank. The rough blank will be later shaped further into the desired knife blade using industrial metal sanders. The next step is to buff the blade out and file a spot for the knife guard. The knife guard is drilled out of brass for a perfect fit. The handle then can be pinned to the knife blade and final polishing and sharpening can take place. Fred has many custom and replica handmade knives on display and for sale in his glass cases at his Fall Creek shop. His knives are some of the best quality and sharpest (no pun intended) looking knives I have ever seen. Hunting season is here and one of these handmade knives would make a great companion out in the woods of Wisconsin and don't forget that Christmas is right around the corner as one of these knives would make an incredible gift. If you are interested in one of these handcrafted knives or would just like more information, see the bottom of this post for Bruner Blades contact information. Part II
See the Knife Handle Assembly in Part II 
You can get your own Bruner Blade custom or replicate  handmade knife.
web | http://www.brunerblades.com
phone | 715.225.8017 or 715.877.2496

Wisconsin Deer Hunting Photography Book Project
---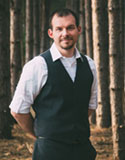 As an established and versatile photographer I work in many genres of photography. Environmental Portraiture allows me to connect my genuine curiosity of my subject into a visual timeless story through the creation of their  portrait. Working with the naivety and quiet beauty of people fascinates me as I engage in the essence of who they are and their true sense of identity. I photograph the emotion and personality in their everyday being through deliberate details and natural flair. My yearning is to naturally engage you doing what you love and the essence of who you really are. 

---
Like and Share With Your Friends and Family!