Post originally authored by Travis Dewitz – Eau Claire Portrait Photographer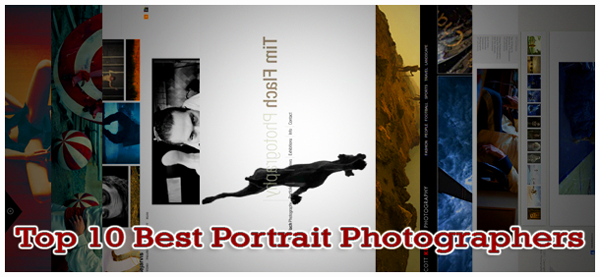 As a photographer, I spend a great deal of time looking at other photographer's work. I look at my local competition, search the internet, and I look through books and magazines trying to find the best and most intriguing. During the great deal of time I spend Googling photos, a few photographers stand out to me. I find myself going back to view and study their work a lot. I have bookmarked their sites and I follow their blogs watching for their latest photographs. Their photographs stand out on another level not matched by very many.  What makes their work stand out from many photographers is how many of their images tell a story in one frame. They make you stop and think longer than many other images that you flick by.
This is my Top 10 Best Portrait Photographers Today list. This top 10 list is comprised of a selection of my personal top 10 portrait photographers today. These photographers stand out because they are very good, PERIOD. I will admit that there are other factors that got them to my top 10 list. Many of them are already well-known (because they are the best) and that helped to get their images in front of my eyes. Some of them are actually famous which Google does a good job at putting towards the top of many of my search terms since everyone else is writing about them too. Factors like these really can mess with someone making a top 10 best of list as there are 1,000s of great photographers that could have easily made this list if I had seen their portrait works. Plus a top 10 photographer list is pretty hard to narrow down. I could have done a top 2,500 list but nobody would have read it. So take my selections with a grain of salt that this isn't the one and only top 10 portrait photographer list. A few other factors went into my list like, a few of the selected photographers offer training to help other photographers in mastering this craft. The list below is in no particular order and feel free to share anywhere you wish, please just keep my link included at the top or bottom.
Joe McNally
Joe McNally
portfolio.joemcnally.com
Joe McNally's Photography Books
Google Images
---
Joey Lawrence
Joey Lawrence
www.joeyl.com
Joey Lawrence's DVDs
Google Images
---
Scott Kelby
Scott Kelby
www.scottkelby.com
Scott Kelby's Books
Google Images
---
Zack Arias
Zack Arias
zackarias.com
Google Images
---
Tim Flach
Tim Flach
www.timflach.com
Tim Flach's Books
Google Images
---
Erik Almas
Erik Almas
www.erikalmas.com
Google Images
---
Chase Jarvis
Chase Jarvis
www.chasejarvis.com
Chase Jarvis' Books
Google Images
---
Michael Muller
Michael Muller
www.mullerphoto.com
Google Images
---
Annie Leibovitz
Annie Leibovitz
no personal website
www.vanityfair.com/contributors/annie-leibovitz
Annie Leibovitz's Books
Google Images
---
Jaime Ibarra
Jaime Ibarra
ibarraphoto.com
Google Images
--- ---
Like and Share With Your Friends and Family.