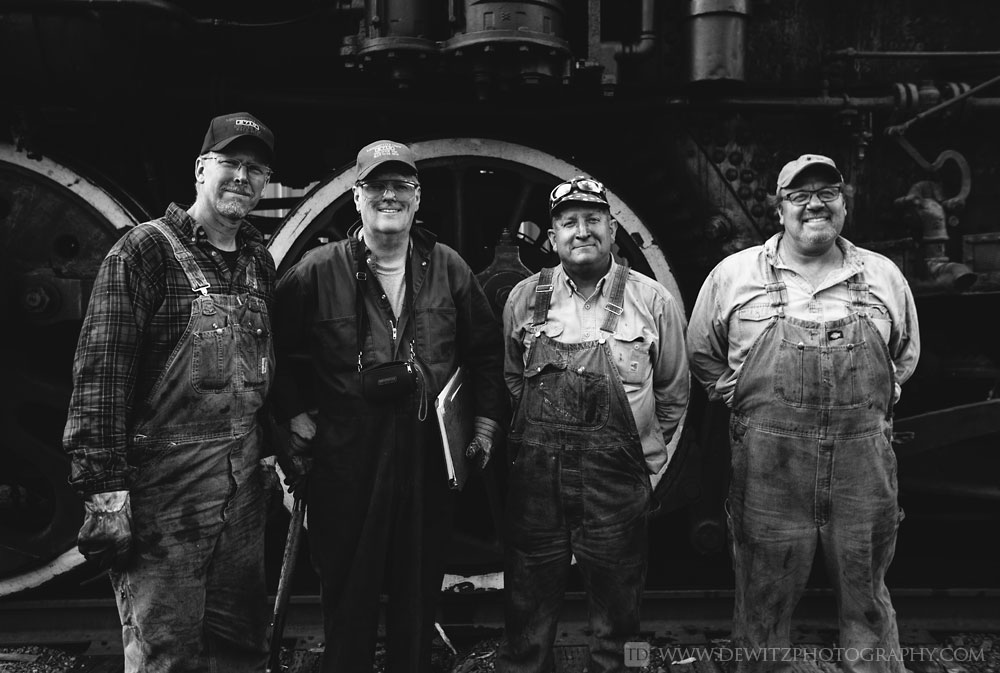 ---
---
I was able to spend two days documenting the what it took to get Soo Line 2719 to run the rails to pull a passenger excursion. Soo Line 2719 is a steam locomotive that is stored in Duluth, Minnesota at the Lake Superior Railroad Museum. It was built in 1923 by the American Locomotive Company (ALCO) in Schenectady, New York. The locomotive is in a Pacific 4-6-2 configuration which  represents the wheel arrangement of four leading wheels on two axles, usually in a leading bogie, six powered and coupled driving wheels on three axles, and two trailing wheels on one axle, usually in a trailing truck. 2719 worked for the Soo Line Railroad  in both freight and passenger service and served our country by carrying troops for both WWII and the Korean War.  This was the last steam powered locomotive in service in the state of Wisconsin when it was retired in 1959. After over 3 million miles of service, the Soo Line Railroad donated 2719 to the city of Eau Claire in which it was on public display in Carson Park. The beginning of the restoration to bring this locomotive back to operational status was started in 1996 by the Locomotive and Tower Preservation Fund who still own it. The locomotive has been part of many excursions since it has been restored but it is coming up for its 15 year FRA mandated boiler inspection at the end of the year which leaves an uncertain future for 2719. Soo Line 2719 will be making excursions between Duluth and Two Harbor along Lake Superior the next few coming weekends. The locomotive departs from the Lake Superior Railroad Museum and is operated by North Shore Scenic Railroad. (links below)
There were many people involved that work long hard hours to get Soo 2719 up and running for the private excursion and for the start of the season. The crew got an early start on Saturday preheating the boiler. As the preheating was under way, the crew filled the tender with water and started the fire in the firebox. The rest of the day was spent working on the many odds and ends around the locomotive and getting the boiler steam pressure up to operating pressure. Later that afternoon once they got the pressure to come up they discovered a pressure leak at the boiler inspection cover. The rest of the evening was spent trying to decrease the pressure and temperature so a repair could be made before the scheduled trip on Sunday. They were not able to get the pressure down low enough that night so they let it sit over night for an early morning repair on Sunday. 6am on Sunday morning, the crew went back to work. To the amazement of everyone, 2719 was still very hot and was maintaining pressure. By 10 am they were able to get the locomotive down to safe levels to make the repair to the seal. Once the repair was made, the crew fired her back up and verified the repair. Everything was a go and 2719, now coupled to two passenger cars, backed onto the mainline for their departure to Two Harbors, Minnesota. After the Thomas and Friends excursion arrived back into Duluth, Soo 2719 departed north along Lake Superior. The train made an uneventful trip to Two Harbors where it was wyed in Canadian National's yard for the return trip back to Duluth. I documented all the dirty work that it took to keep 2719 on the move from keeping a hot fire to maintaining the correct pressures. The entire trip used about 4 tons of coal which had to be shoveled one shovel full at a time. I couldn't image what it must have been like many years ago when steam ruled the rails. I hope you enjoy all the photos.
---
---
About the Author
Travis Dewitz is a professional photographer located out of Eau Claire, Wisconsin. He has been published in many books and magazines including many in the railroad industry. He does a lot of photography work and environmental portraitures for many companies and heavy industries in and around Wisconsin. He has grown up with trains and railroads are one of his passions that he pursues. His railroad photography can be seen on his website The Railroad Collection.
---
Like and Share with your friends and family!