These are some of my photos from my 2011 road trip through parts of West Virginia. Many of you have already seen all of my West Virginia Photography Series but if you haven't Coal in McDowell County would be a great place to start. These are some of the West Virginia photos that slipped between the cracks or may have been redundant to the photos selected for my other West Virginia photo sets. The photos below are railroad heavy as the railroad is the bloodline to many of the communities that I visited and are an  integral part of the area. Many photos are from McDowell County which leads the country in population decline which shows. This is also a very history rich area which was amazing to see in person and to be able to photograph while many structures still exist. Take some time and look into the scenes and really look at the images. There is so much to be seen in many of the photos and many of the details are easily missed if just browsing through. Look at some of the gorgeous homes that blend in with the degrading homes that surround them or falling down houses (literally). Look for the homes hidden on the steep valley walls or small items just laying on the ground. Stop and try to feel the emotion that these images convey. Just spend a few extra seconds and enjoy yourself.
---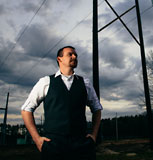 Through the creative lens of Travis Dewitz; he demonstrates time and time again how much splendor can be extracted from the interplay of the industrial world around us. In the most unusual and unexpected places Dewitz showcases images that embody the forgotten beauty of railways, factory floors, the rolling smoke of steel mills, and the cities that are built around them. He brings a certain magic as he invokes the very souls of these once-glorious industrial areas; his captures overflow with inspirational energy. Click here to view his personal series.
---
Like and Share With Your Friends and Family.