The city of Eau Claire in western Wisconsin has a population of roughly 66,000. In just one night of driving around the city, I photographed 18 high interest payday loan type stores. I'm sure there are a couple more loan stores in the city that I missed. Is there really a need for that many? I think it is crazy that this many can operate and survive in Eau Claire but they do. Payday loan stores can have interest rates normally vary between 200% APR and 1000% APR but they also have a high debtor default rate of 10% – 20%.
---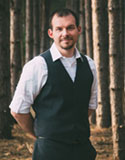 Travis Dewitz is a remarkable photographer in the Chippewa Valley. He is well known for photographing local sceneries, landmarks, venues, buildings and people in various and ingenious ways. Though you not know him personally, his work provides a unique foundation of our local community and his photographs are unmistakable. Dewitz's pictures are an impressive feat and preserve a moment; long after our travels are over, and our memories faded, photos are what remind us of the adventures we had and the connections to the people we met. Learn more about him here.
---
Like and Share With Your Friends and Family.
YOUR LIFE. YOUR STORY. YOUR PORTRAIT. CLEARLY UNIQUE.
---
---
Related Posts