The other stretch between Landgraff and Welch is also only 10 miles. Driving from east to west you will drive through Vivian, Kimball, Carswell, Big Four, Superior, and Maitland before arriving to Welch. Most of these towns are very small to non-existent besides Kimball but would still need to drive to Welch for most of your needs. Welch is a very neat town that is kinda divided by a mountain. The book Glass Castle also took place in Welch.
A couple of places of interest from the photos below include The Elkhorn Inn and the Elkhorn Tunnel.
From Wikipedia
Landgraff is one of many historical coal camps in the famed Pocahontas coalfield. The town is named after Constance Landgraff Andrews, the wife of a coal company executive. The Empire Coal Company Store, listed on the National Register of Historic Places, was located in Landgraff but has since burned down. The Landgraff Post Office closed in 1951, and the town lost its zip code. The population of Landgraff in the 1960s was approx. 700. The Empire Coal and Coke Company Miner's Clubhouse, built-in 1922 of brick to replace a wooden structure that had burned down, is on the West Virginia "Coal Heritage Trail" (America's Byways). It was flooded in the 2001 and 2002 floods that devastated southern West Virginia, was restored in 2002, and opened as the "Elkhorn Inn and Theatre", a historic inn (named for Elkhorn Creek that runs behind the Inn) that is the state's only "Coal Heritage Trail" property offering lodging and dining. The Inn houses a small museum with mine scrip (company-printed coinage used to pay miners until the 1960s), books, documents, coal core samples, photos, artwork, and other memorabilia on the area's history of railroading and coal mining. The famed "Pocahontas" line of the Norfolk Southern Railroad (formerly Norfolk Western) runs along Route 52 past the Inn. The Landgraff Mine coal tipple was located a short distance from the Inn. Coal trains continue to rumble through the heart of the area on Norfolk Southern Railway's (former Norfolk and Western Railway) Pocahontas Division. Area attractions which draw tourists from across the USA and overseas include "railfanning" (train photography), fly-fishing for 24″-32″ record-breaking trout on Elkhorn Creek, ATVing, golf, hiking, and historic sites connected to the Mine Wars, books such as Homer Hickam's "Rocket Boys" , and movies, including "October Sky".
Kimball is a town in McDowell County, West Virginia, United States. The population was 411 at the 2000 census.
Kimball was incorporated in 1911 and named for Frederick J. Kimball, who was a president of the Norfolk and Western Railway. Kimball was the site of the first war memorial building erected in memory of the African-American veterans of World War.
Maitland was once the site of a large coal mine, which closed in the mid 1900's. Maitland was almost demolished in 2001 and 2002 when horrific flood levels of the Elkorn River destroyed more than half of the community. In recent years, more than six houses have been torn down; with some more on the way. In 2009 Maitland received funding to improve their sewer, by adding new pipe lines. Before the change the waste flowed in the Elkorn River.
Welch was incorporated in 1893 and named after Isaiah A. Welch, a former captain in the Confederate Army who came to the region as a surveyor, and helped establish the plan for the beginning of a new town at the confluence of the Tug and Elkhorn rivers. Welch was made the county seat of McDowell County in an election by county citizens in 1892 [1] even before Welch was incorporated as a city. The previous county seat was in Perryville (nowEnglish) near present day Coalwood. Results of the election were contested so to avoid violence county records were secretly moved from Perryville to Welch at night in two wagons by James A. Strother and Trigg Tabor.
The first recipients of modern era food stamps were the Chloe and Alderson Muncy family of Paynesville, McDowell County. Their household included fifteen persons. On May 29, 1961, in the City of Welch, as a crowd of reporters witnessed the proceedings, Secretary of Agriculture Orville Freeman delivered $95 of federal food stamps to Mr. and Mrs. Muncy. This was the first issuance of federal food stamps under the Kennedy Administration, and it was the beginning of a rapidly expanding program of federal assistance that would be legislated in the "War on Poverty."
In the 1960s and 1970s, McDowell County coal continued to be a major source of fuel for the steel and electric power generation industries. As United States steel production declined, however, McDowell County suffered further losses. In 1986, the closure of the US Steel mines in nearby Gary, led to an immediate loss of more than 1,200 jobs. In the following year alone, personal income in McDowell County decreased dramatically by two-thirds. Real estate values also plummeted. Miners were forced to abandon their homes in search for new beginnings in other regions of the country. In recent years, Welch has attracted the construction of new state and federal prisons which are creating some sources of economic renewal. The city has begun restoration of its historic downtown area.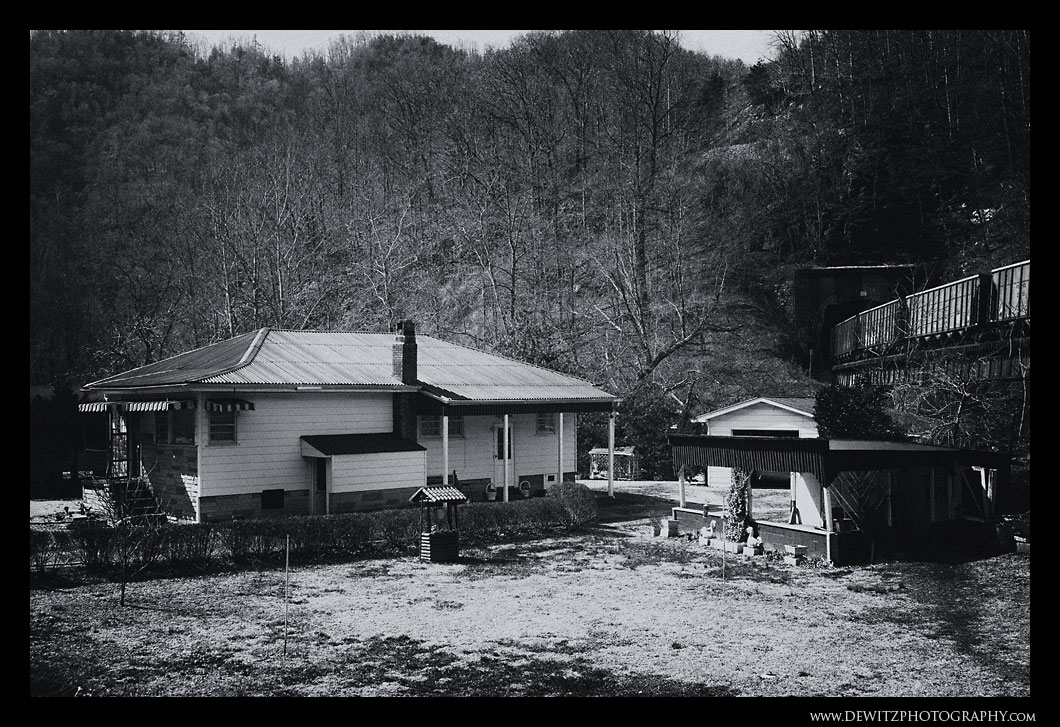 A Train Exits a Tunnel Behind Their House in Roderfield, WV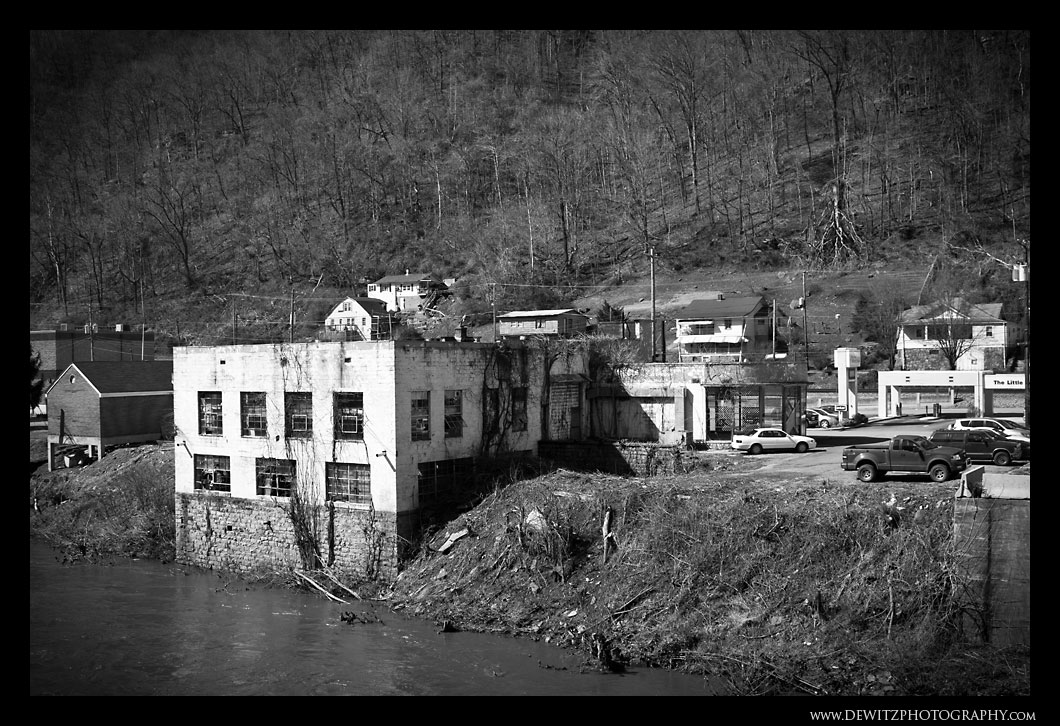 Iaeger, West Virginia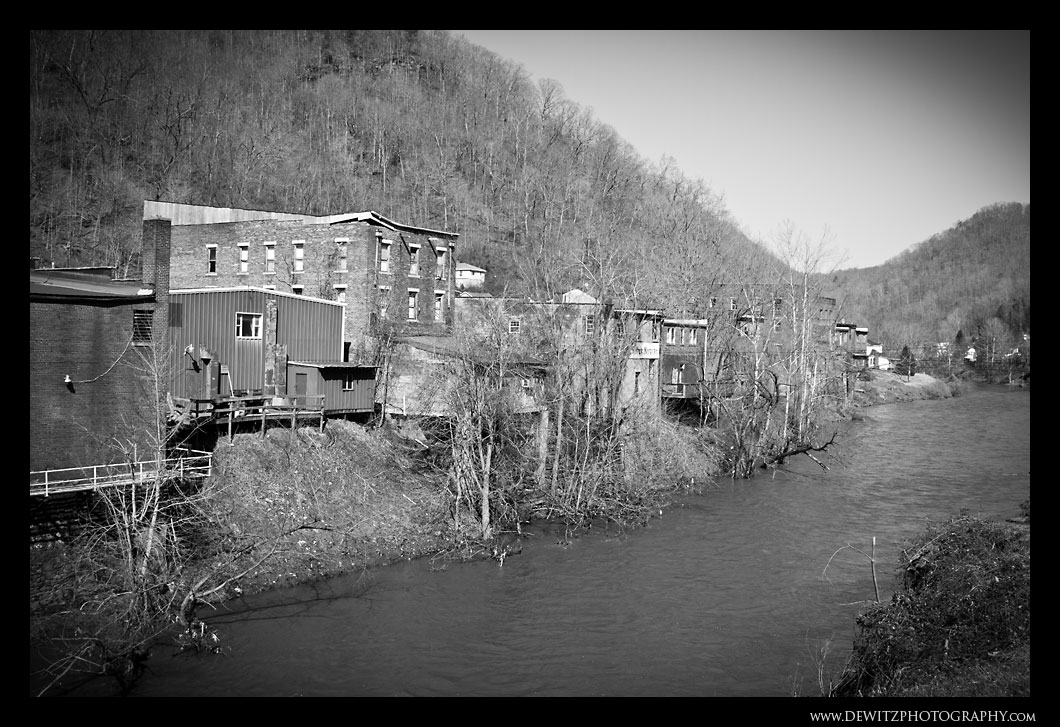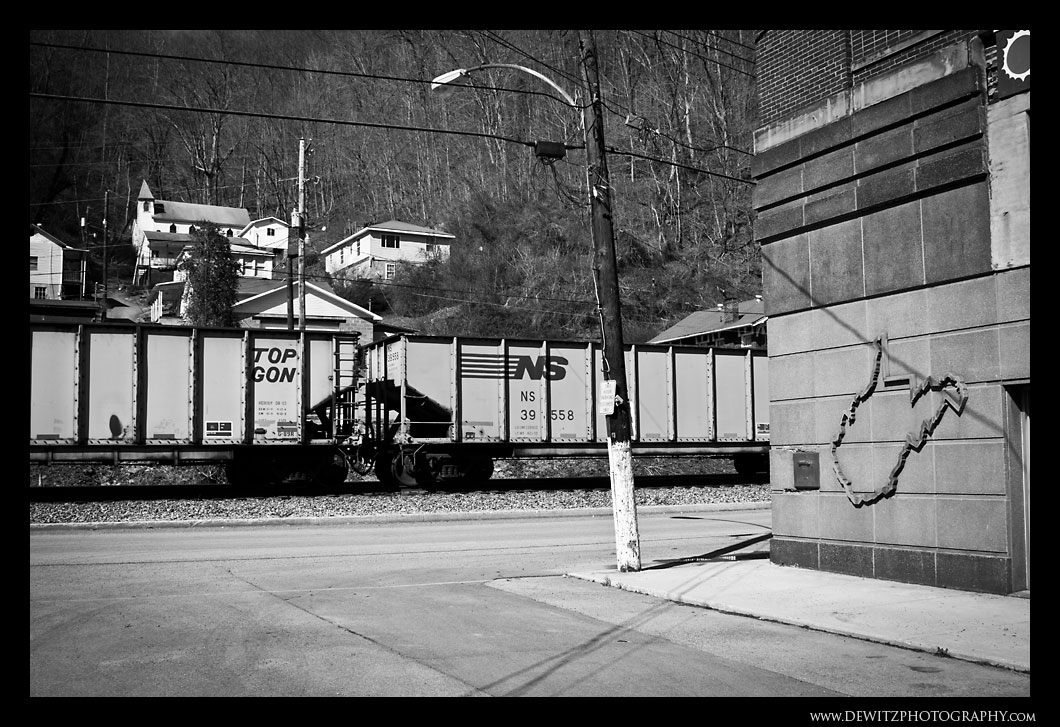 NS Top Gons in Iaeger, WV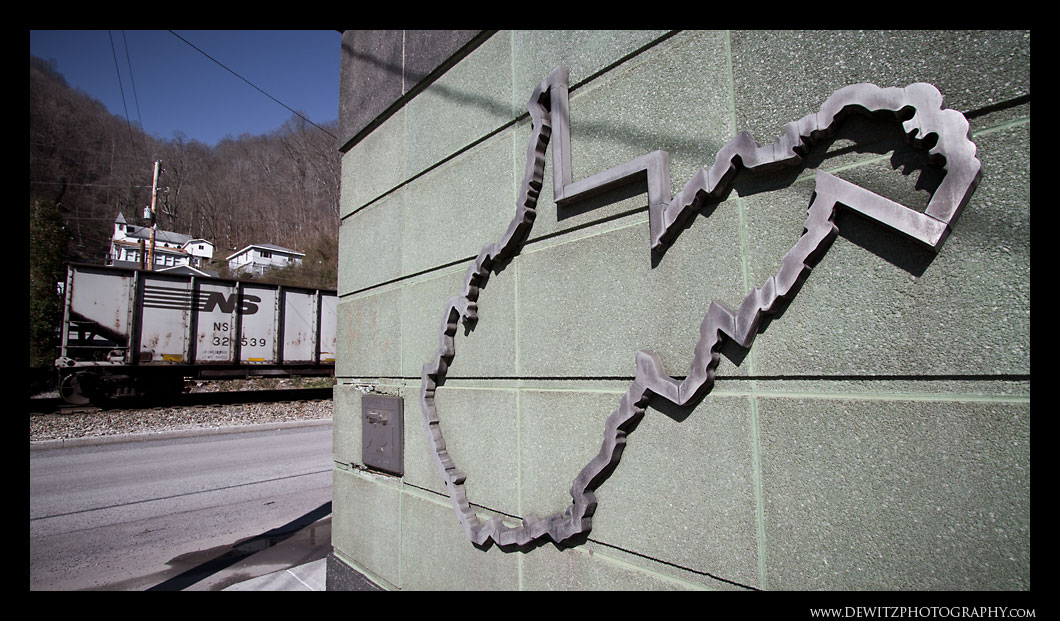 The State of West Virginia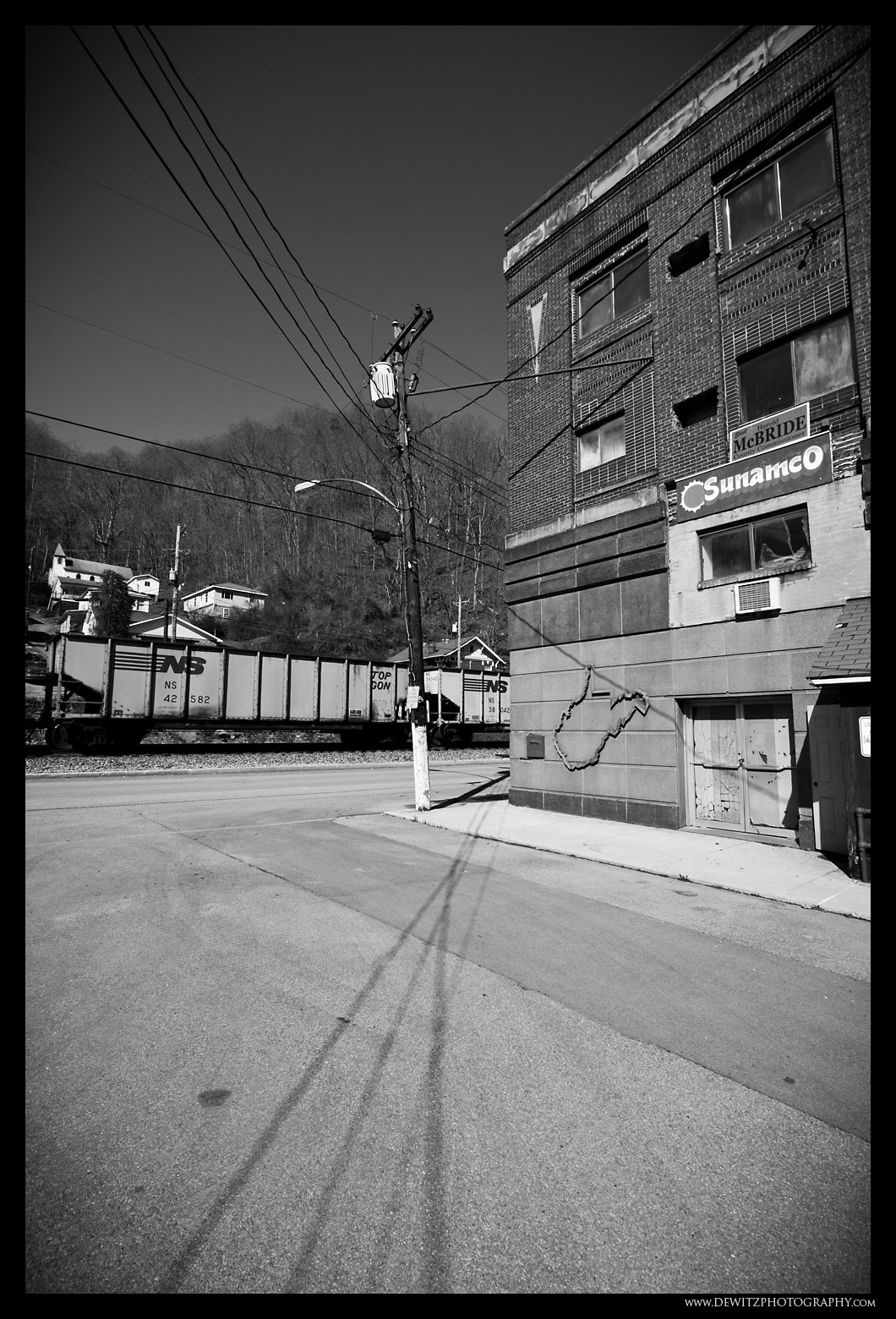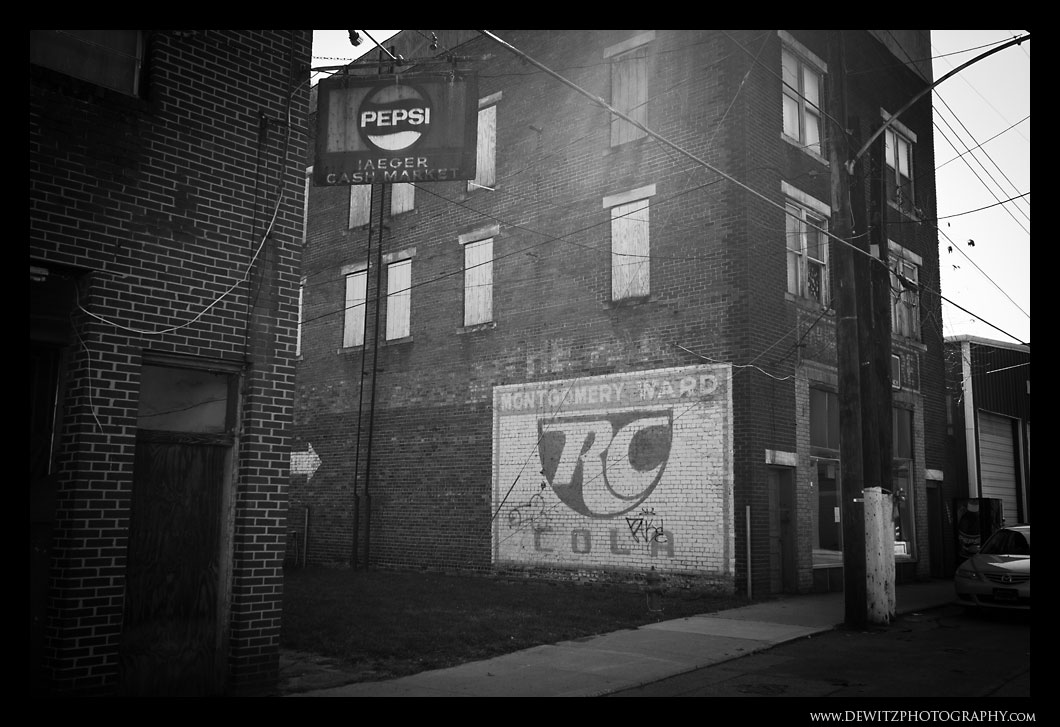 RC Cola Advertisement in Iaeger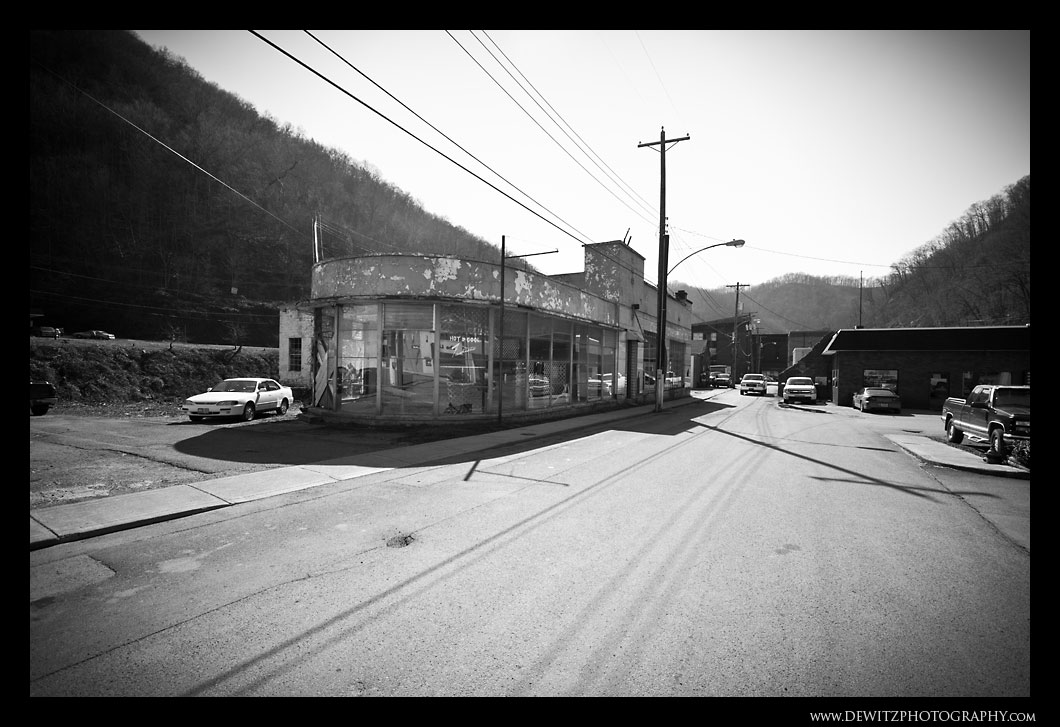 Closed Chevrolet Dealership in Iaeger, WV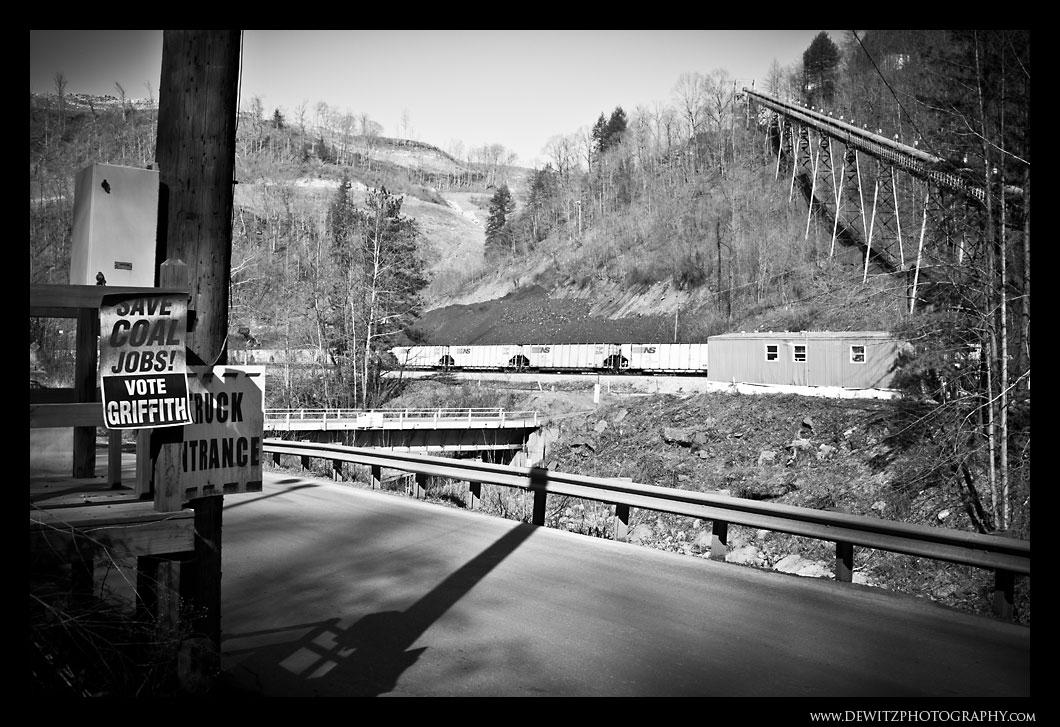 Save Coal Jobs – TECO Coal Loading Facility near Hurley, Virginia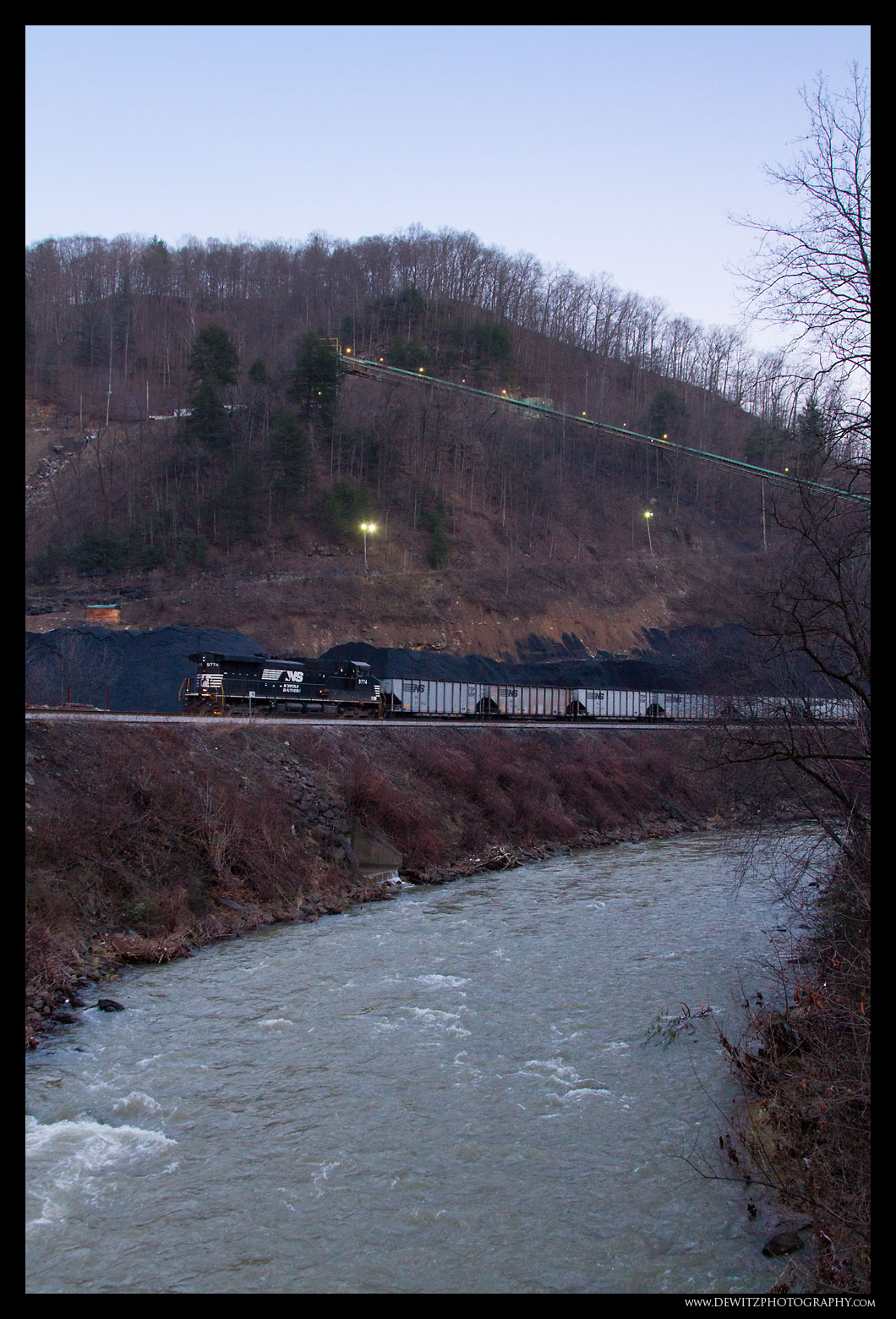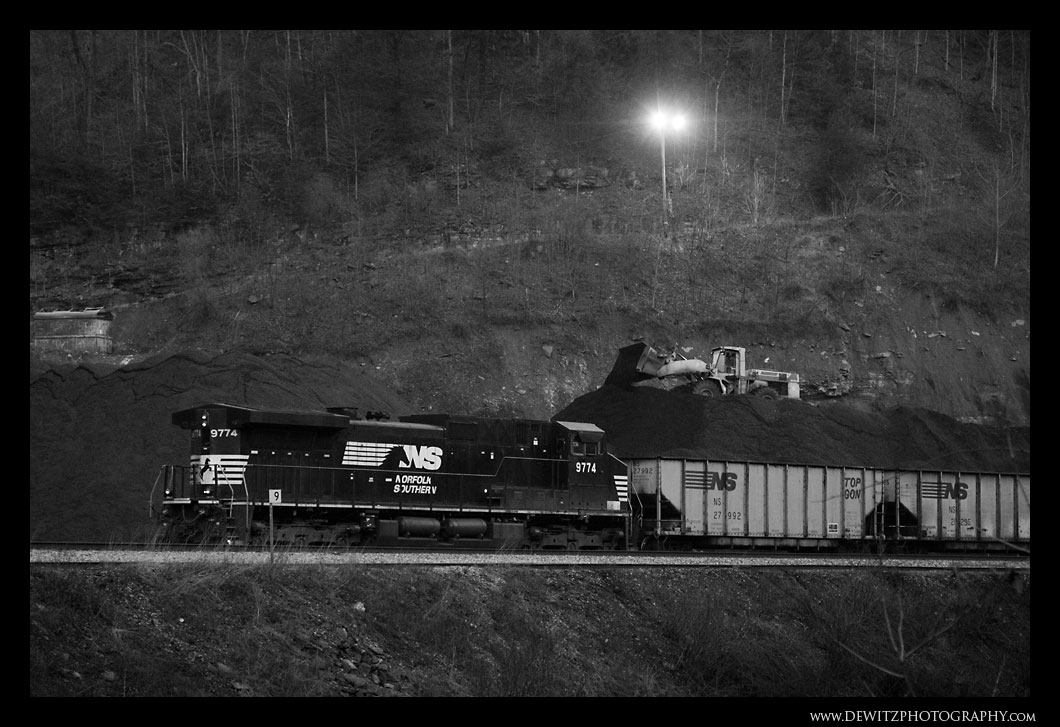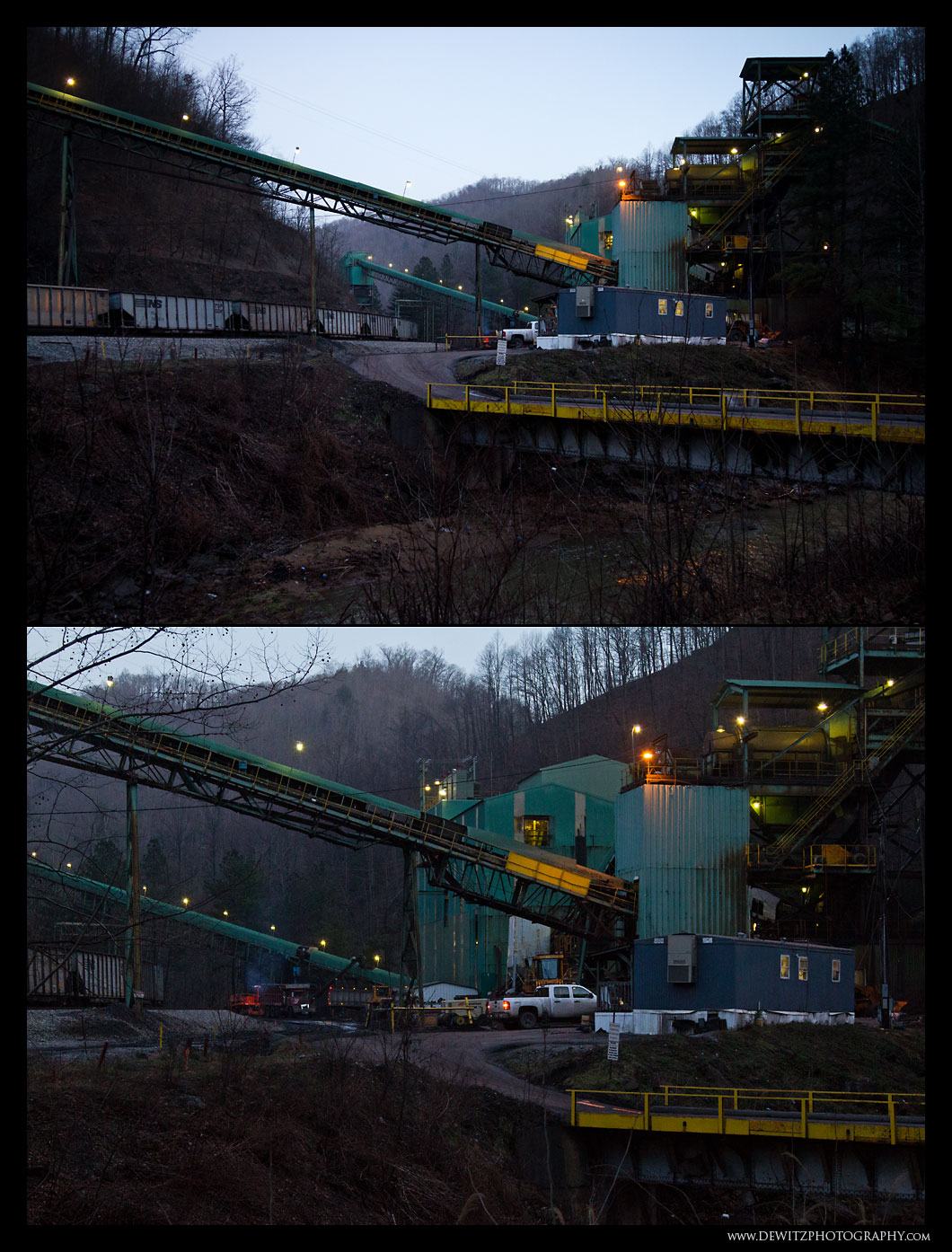 Loading Coal into Hoppers at TECO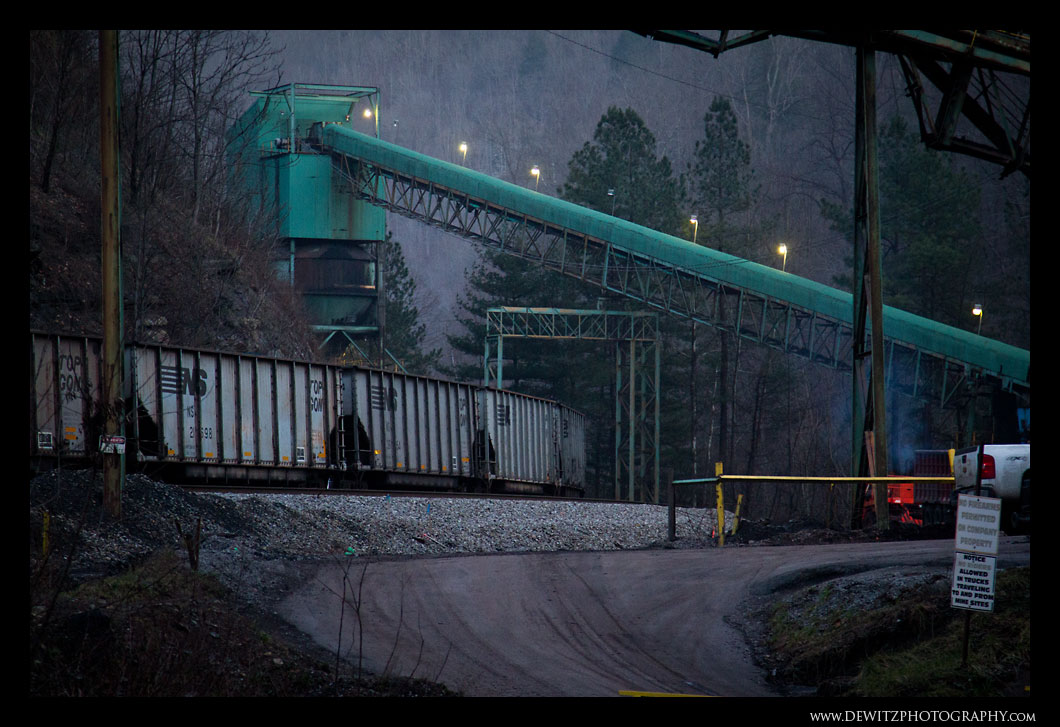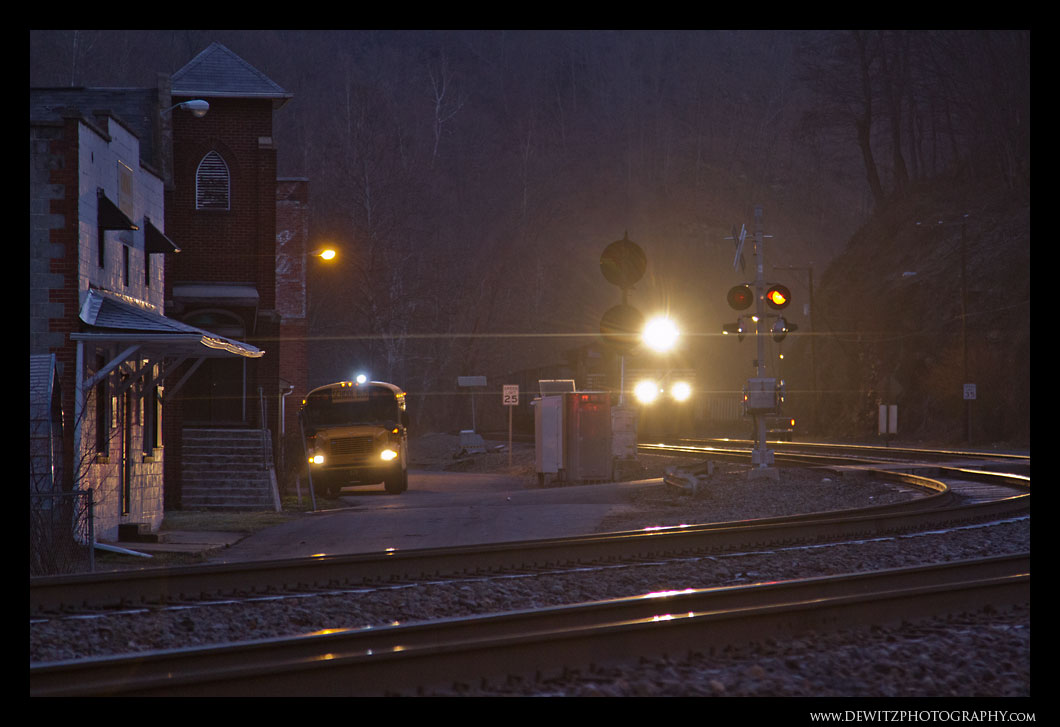 School Bus Route in Keystone, WV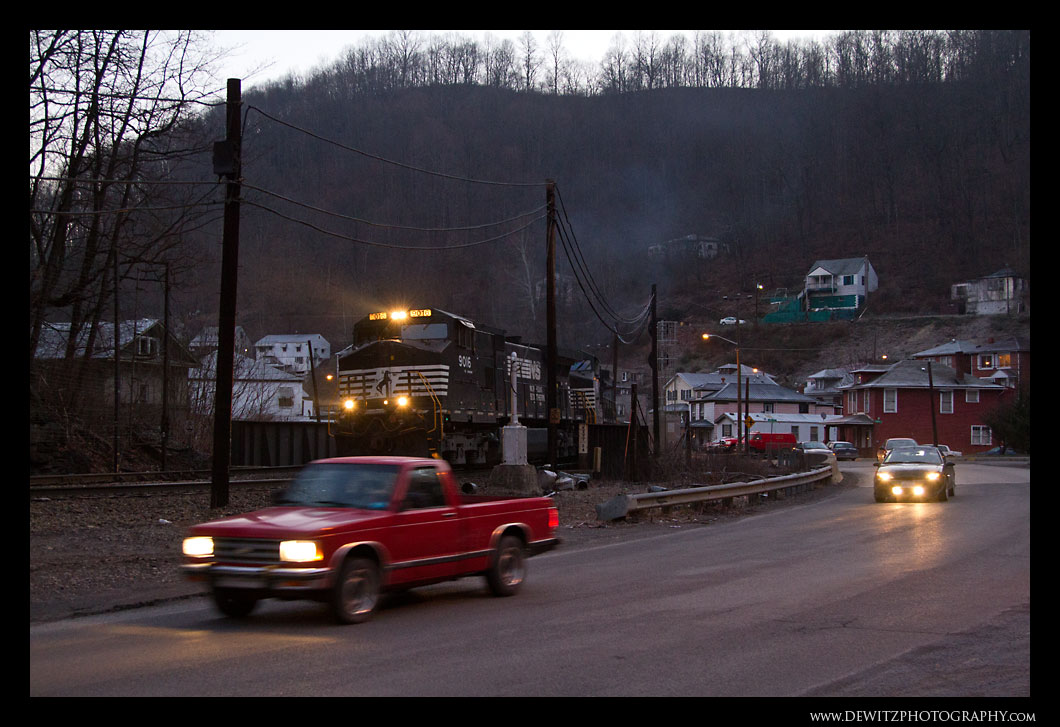 Early Morning Rush Hour in Keystone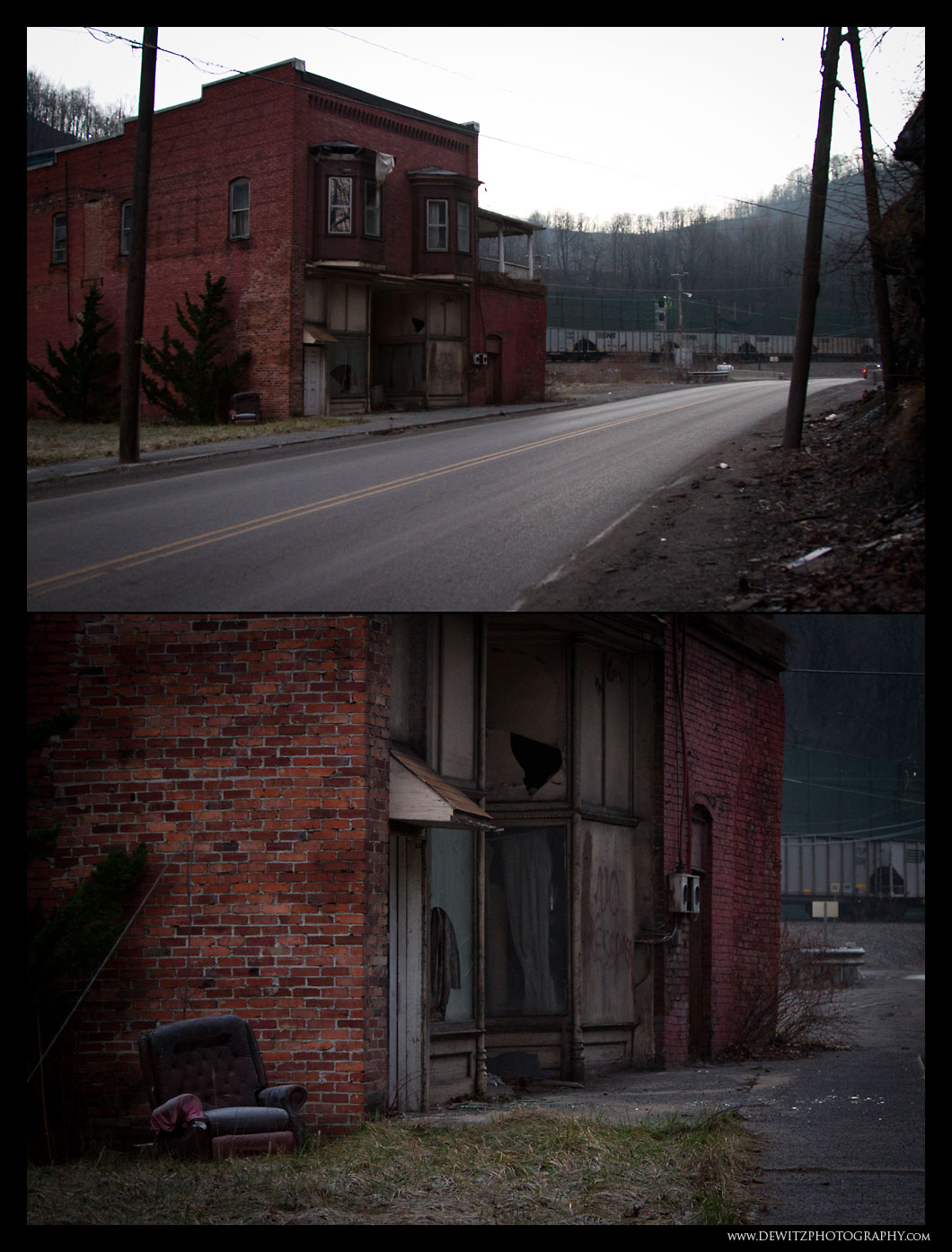 Abandoned Business in Keystone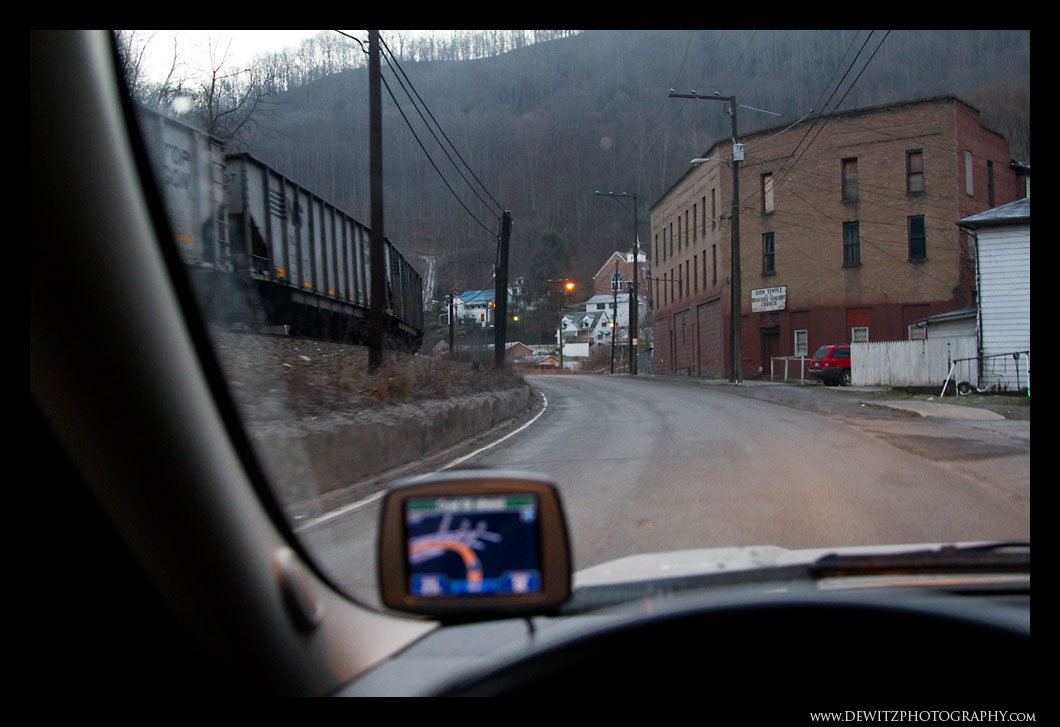 Norfolk Western Power Sub-Station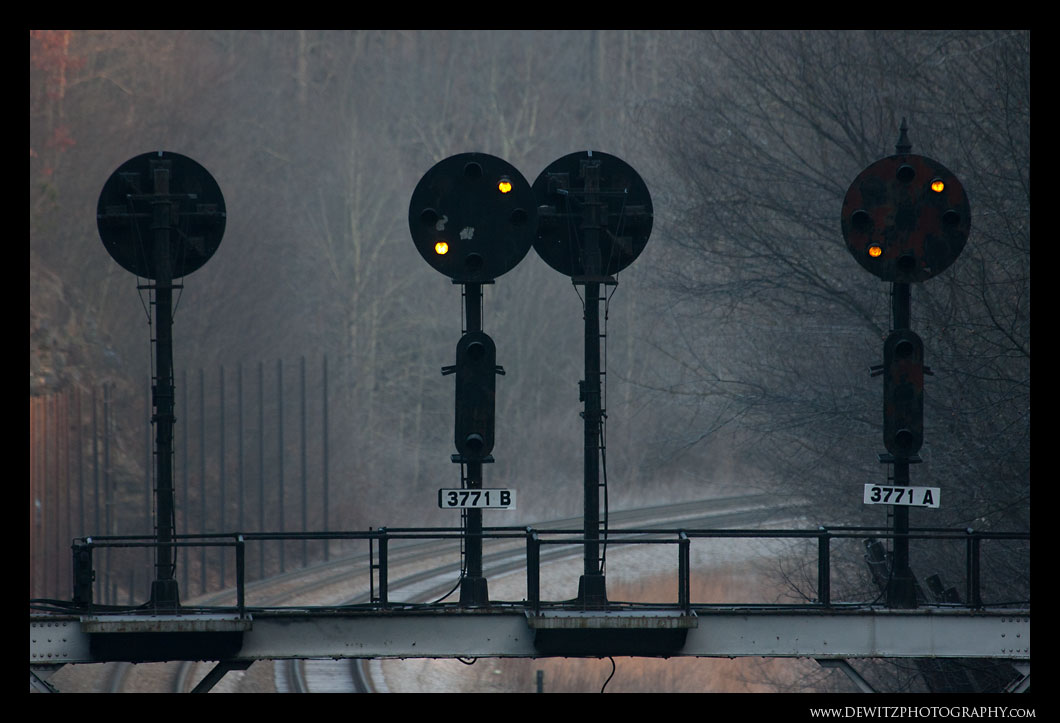 NW Position Signals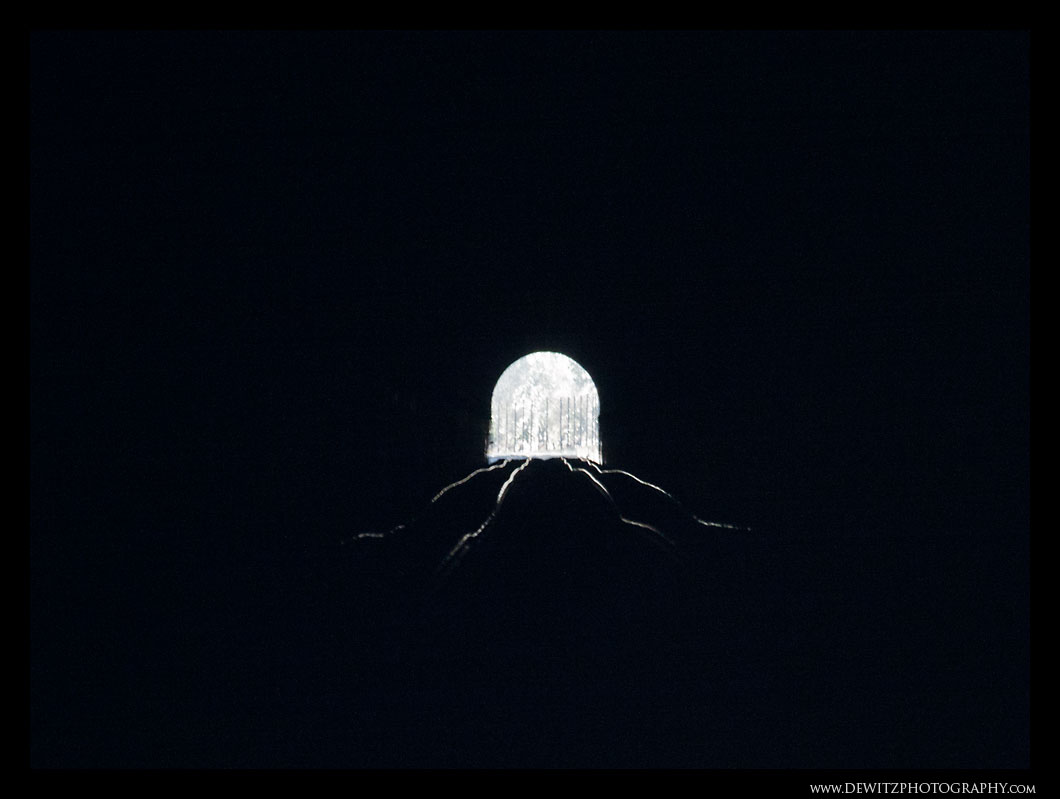 Telephoto Down the Elkhorn Tunnel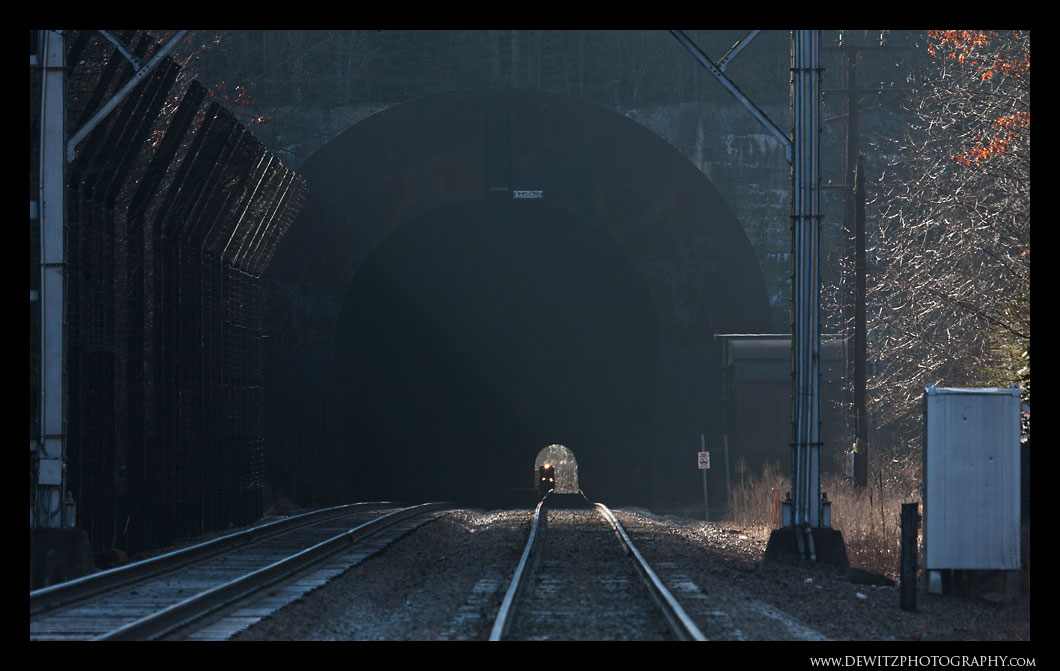 NS Train Approaching Elkhorn Tunnel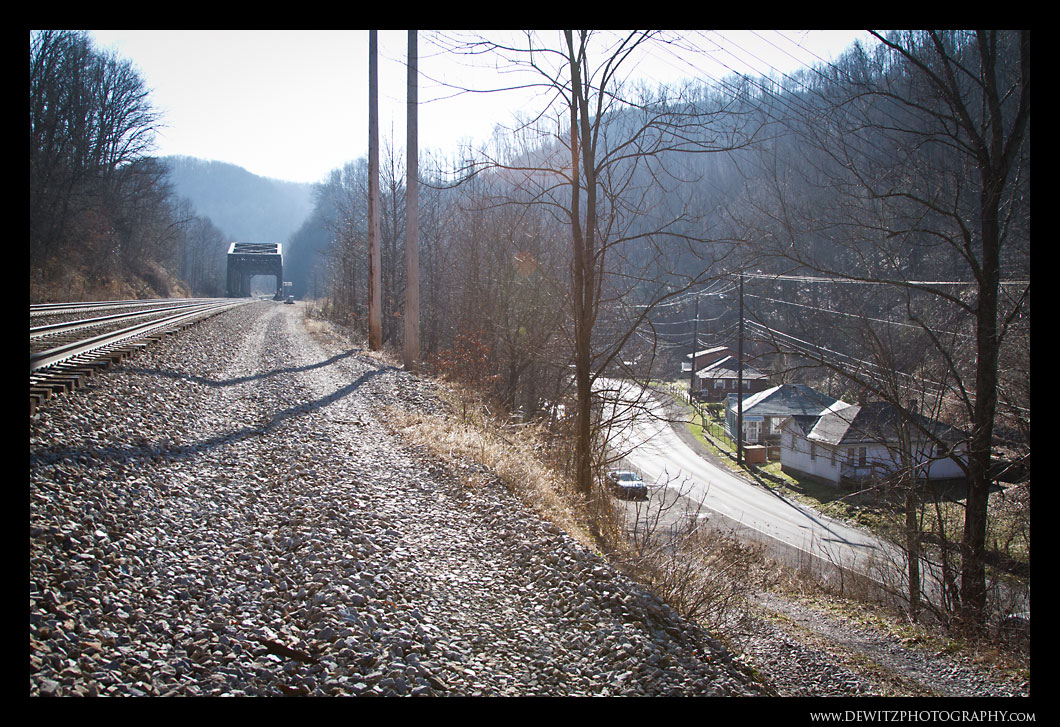 The View of Maybeury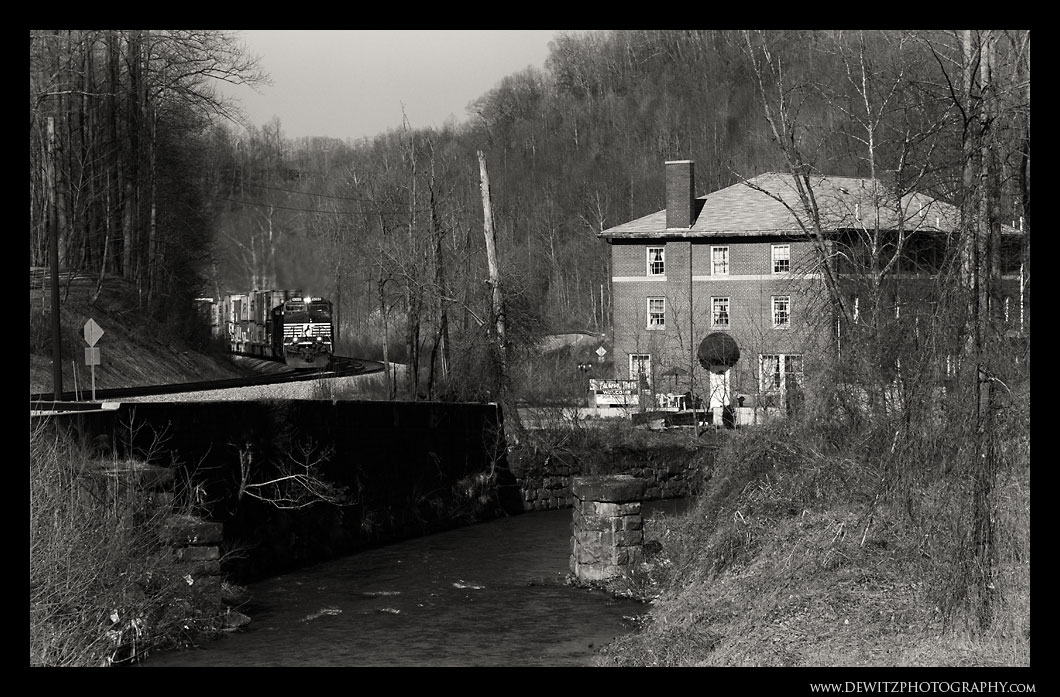 The Elkhorn Inn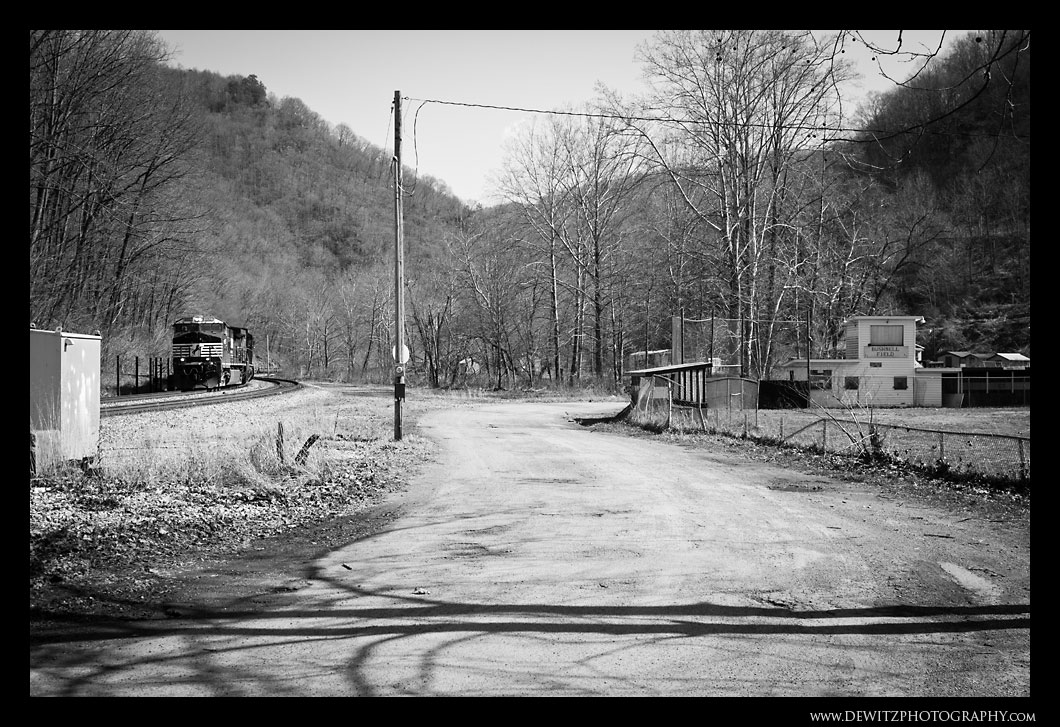 Ball Field in Vivian, WV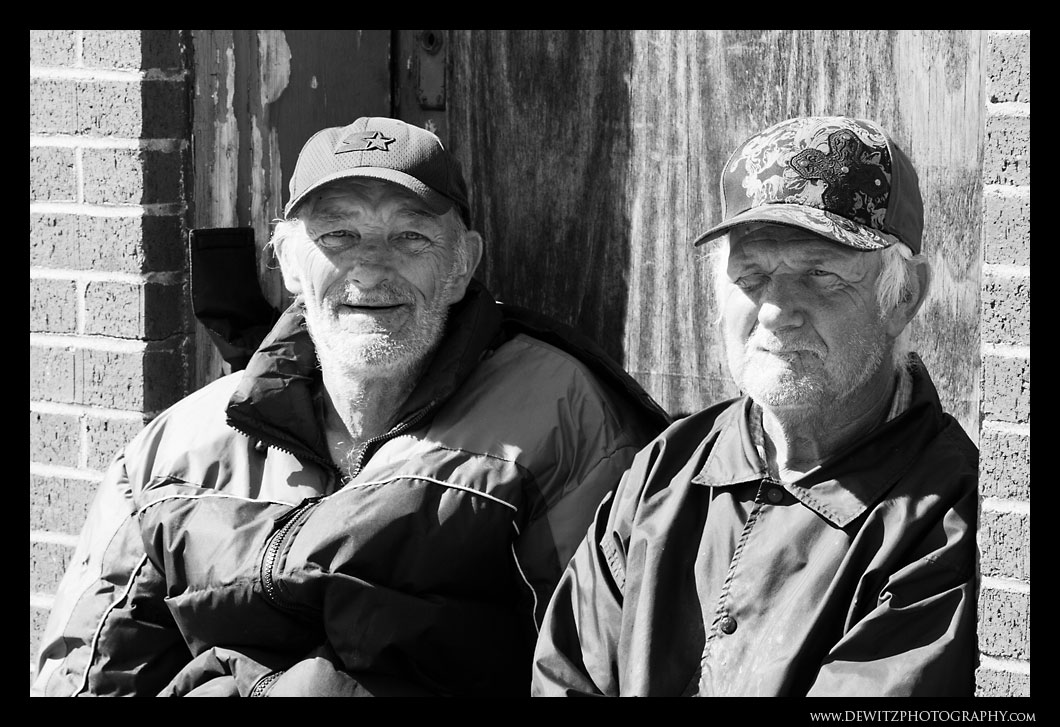 Brothers in Kimball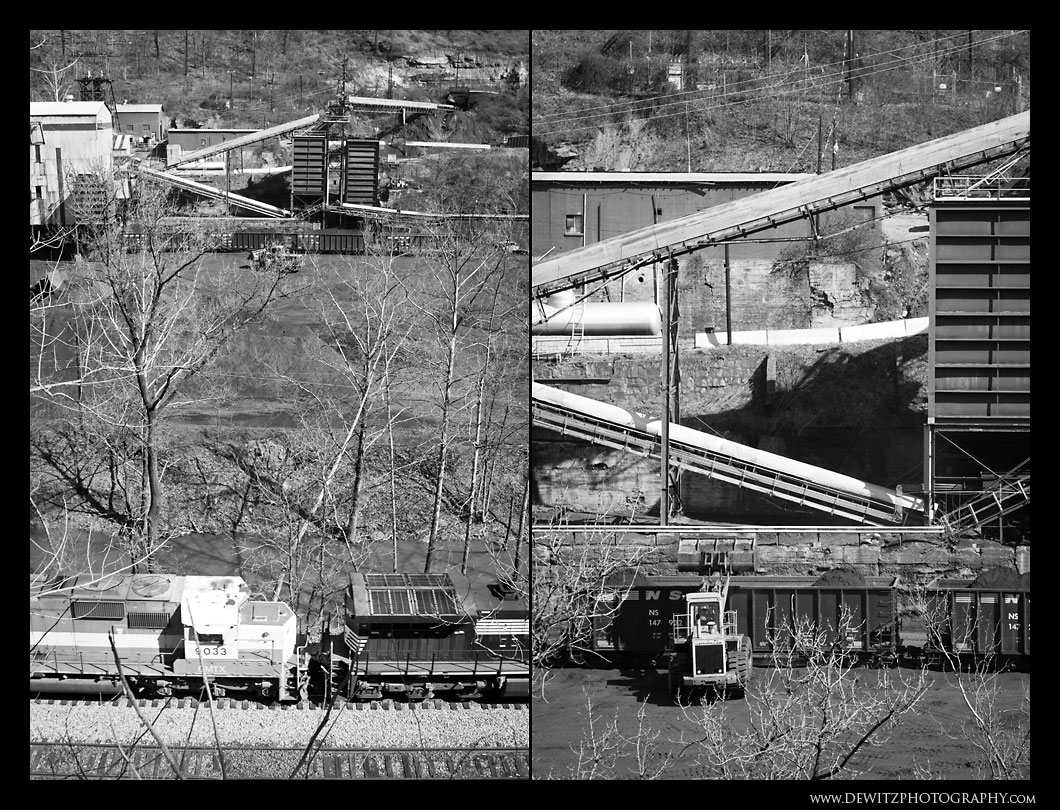 Loading Coal in Superior, West Virginia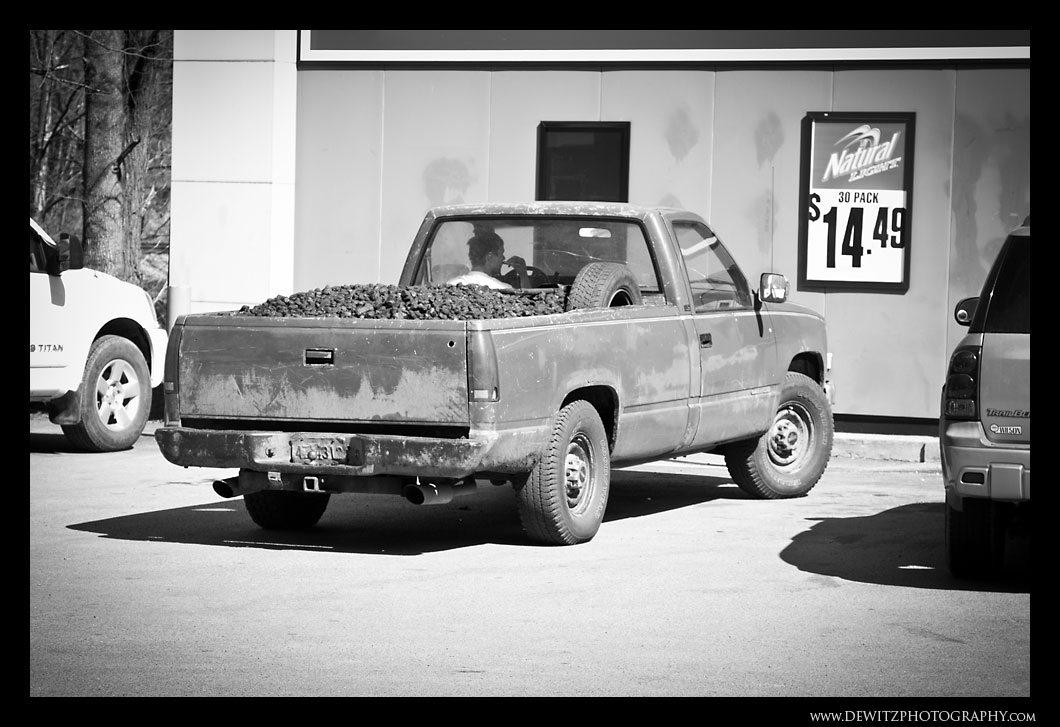 Shaving in His Chevy With a Load of Coal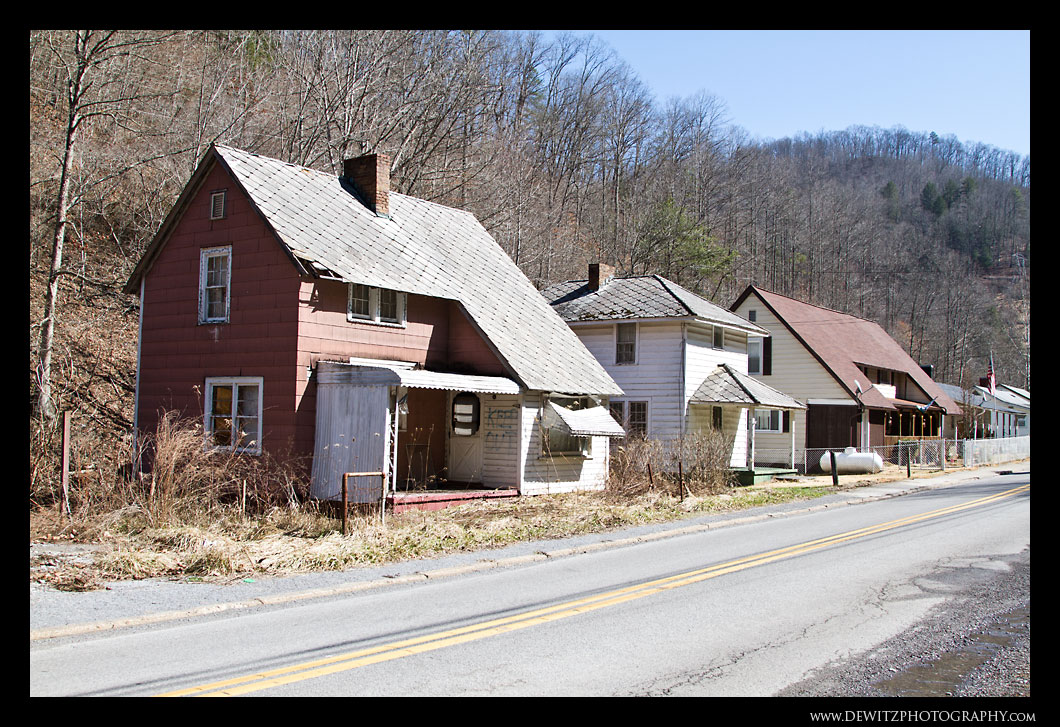 Coalwood, West Virginia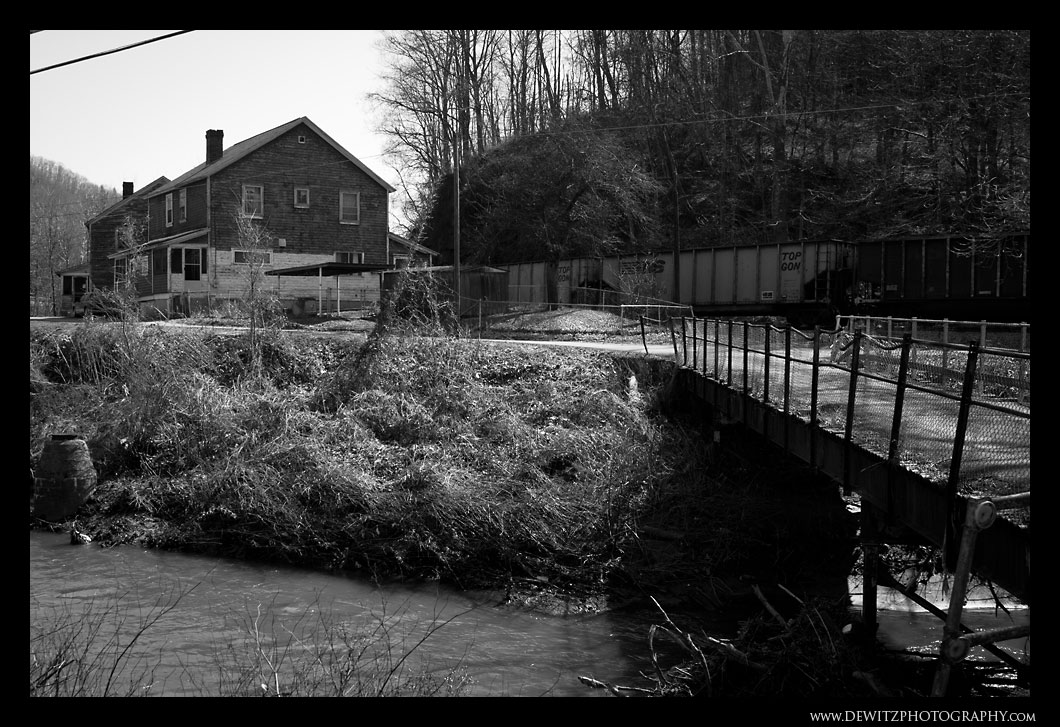 Gary, West Virginia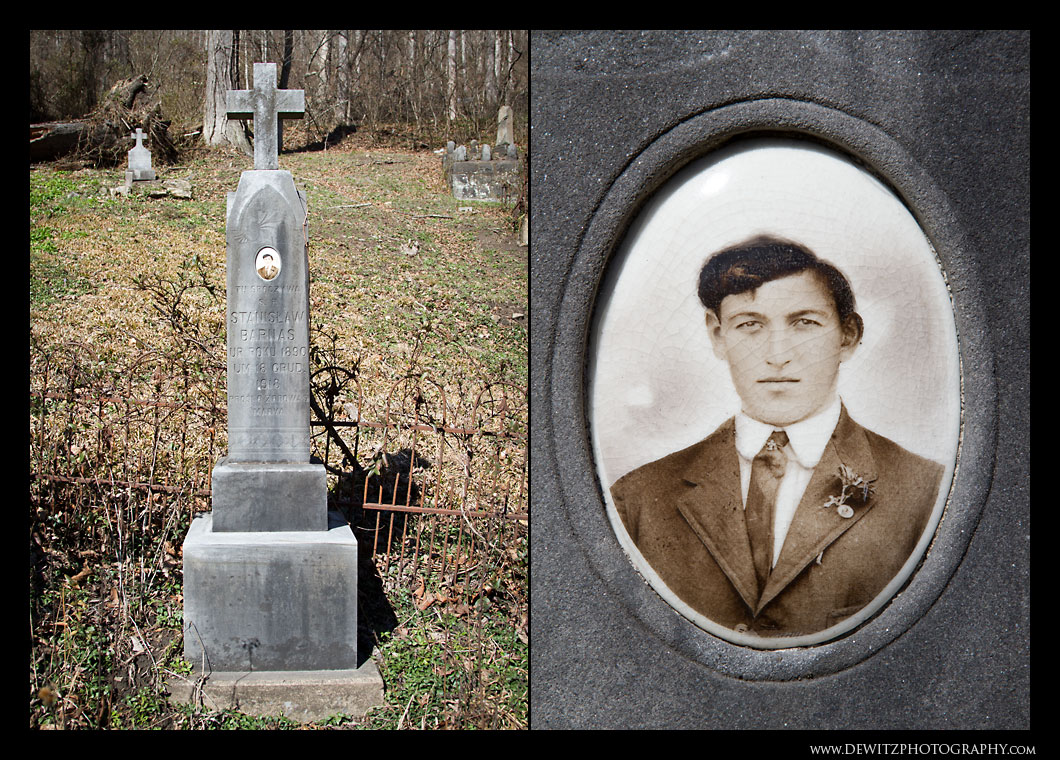 Old Grave Stone Portrait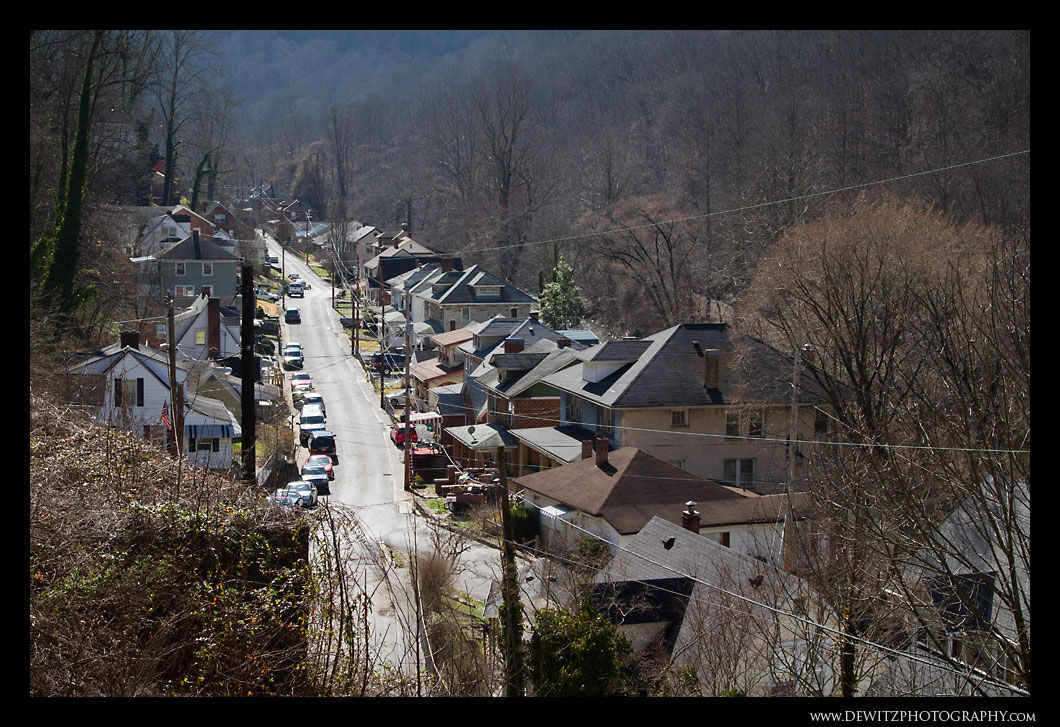 Looking Over Welch, WV

I would love for you to see more of my photo series from West Virginia below.
Prince, WV Art Deco Amtrak Station
Abandoned Coalwood High School
Coal in McDowell County – Part 1
Coal in McDowell County – Part 2
Coal in McDowell County – Part 4
Arson Destroyed Coal Company Store
Abandoned Switchback High School
More of my Railroad Imagery can be seen here.
Photo series of Coal in the Powder River Basin of Wyoming.
---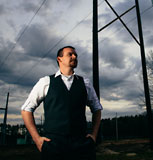 Through the creative lens of Travis Dewitz; he demonstrates time and time again how much splendor can be extracted from the interplay of the industrial world around us. In the most unusual and unexpected places Dewitz showcases images that embody the forgotten beauty of railways, factory floors, the rolling smoke of steel mills, and the cities that are built around them. He brings a certain magic as he invokes the very souls of these once-glorious industrial areas; his captures overflow with inspirational energy. Click here to view his personal series.
---
Like and Share With Your Friends and Family.